Community Change Collegiate Challenge (4C)
Launched in 2019, the Community Change Collegiate Challenge (4C) is designed to provide students with an immersive experience in public problem solving.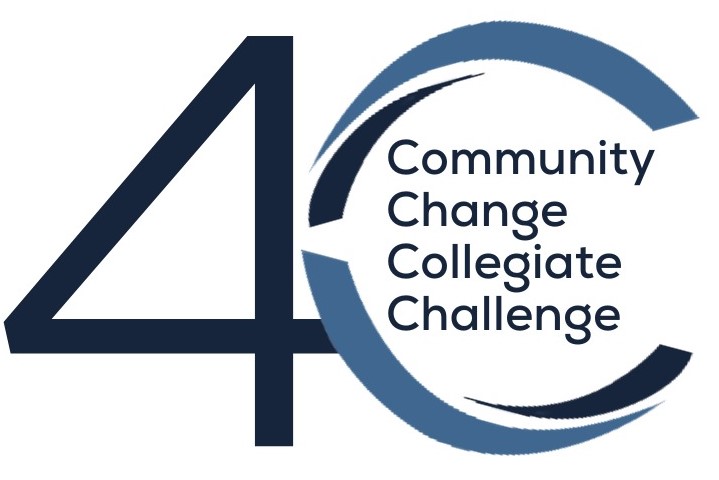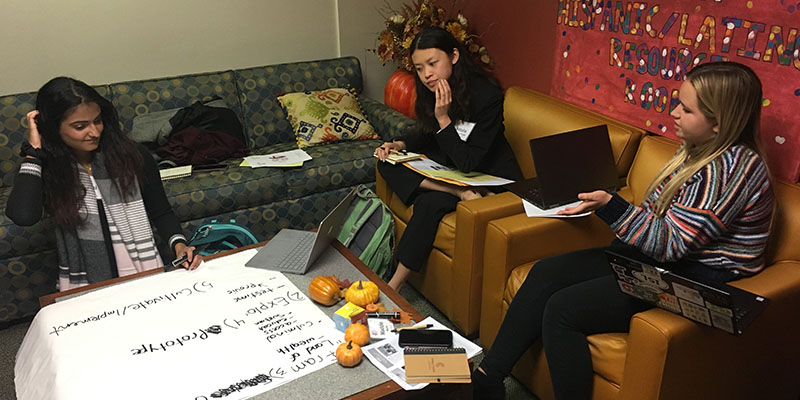 4C is an event hosted every other year (on odd numbered years), alternating with our traditional CSNAP Student Conference. In September, the topic is announced and campuses recruit their teams. Teams are then expected to engage in inquiry and investigation to research the issue within the local context of their college or university.
On the day of the event, students hear from an expert on the topic before engaging in a dialogue on the topic. After lunch, teams are provided a presentation template and given prep time to propose a course of action to address the issue based on their pre-work, the morning presentation, and the dialogue. They will then present their ideas to a panel of judges who score and select the winners. (pictured: the 2019 UNC team preparing their presentation)
Highlights from the 2021 Community Change Collegiate Challenge
November 13, 2021 [Virtual]
Topic: Polarization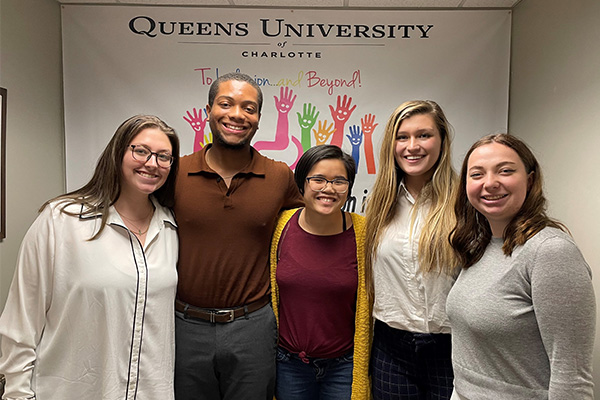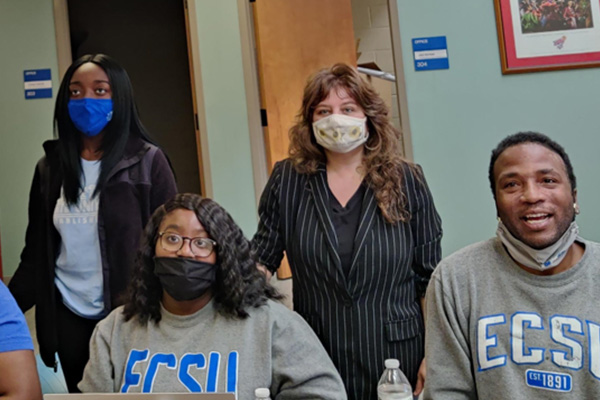 Results:
1st place = Queens University of Charlotte ($1000) (pictured above)
2nd place = Elon University ($700)
Runners-up = Elizabeth City State University (pictured left) & UNC Pembroke ($300)
2nd Runners-up = Fayetteville State University & NC Central University ($100)
All six participating teams received a cash prize.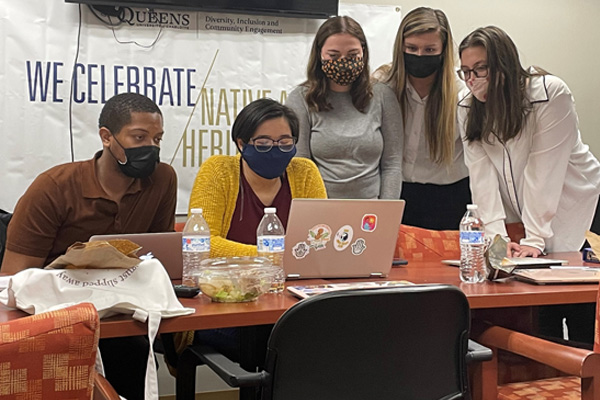 Queens University proposal: Create "College Connect," an app to create a safe platform for students to discuss polarizing topics. Their vision is to launch the app internally and then expand it to include students from campuses across the state. (pictured above: Queens University team working on their presentation)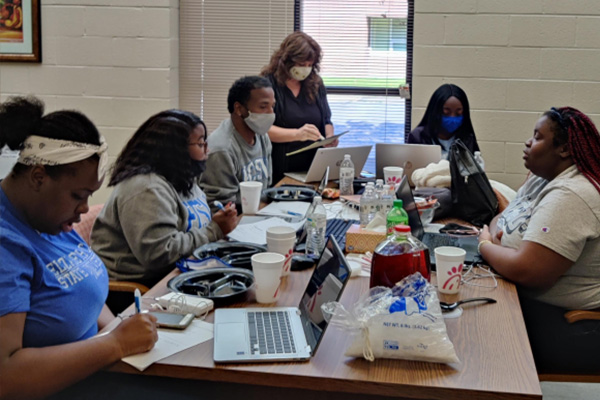 Elon University proposal: Create the "Junior Journalism," a program in partnership with Alamance-Burlington schools in which Elon students and third grade students come together to learn about local government and journalism, and then the elementary students deliver local news through the Elon News Network. They hope to bridge the gap between Elon students and Alamance County residents and to promote depolarization, especially with regard to media bias. (pictured above: The ECSU team working on their presentation)
Keynote Speaker:
Jason Husser, Ph.D., Associate Professor of Political Science and Policy Studies, and Director of the Elon Poll, at Elon University. He researches American political behavior, political polarization, and survey methodology.
Dialogue:
Students engaged in a dialogue using the Living Room Conversations "Polarization Guide."
2021 Judges:
Graham Bullock, Faculty Director of the Deliberative Citizenship Initiative, Davidson College

Ivan Canada, Executive Director of the National Conference for Community & Justice of the Triad

Jennifer Copeland, Executive Director, North Carolina Council of Churches

Hunter Corn, Director, Wildacres Leadership Initiative

Hassan Ghiassi,  Founder, Aristotle's Café and VP of Relationships at Voltage Control

Pearce Godwin, Founder & CEO of Listen First Project

Kevin Marinelli, Executive Director, Program for Public Discourse, UNC-Chapel  Hill

David McLennan, Professor of Political Science, Director of the Meredith Poll, Meredith College

Steve Warshaw, State Coordinator for North Carolina, Braver Angels
Highlights from the 2019 (Inaugural) Community Change Collegiate Challenge
November 9, 2019 (at Elon University)
Topic: Food Insecurity

Results:
1st place = North Carolina A & T State University ($1500)
2nd place = Elizabeth City State University ($1000)
Runners-Up = Elon University and UNC Chapel Hill.
NC A & T proposal:  Establish a program at an existing center near campus to offer healthier foods, to provide nutrition education, and to support residents who want to grow their own crops. The program would engage both the campus and the greater Greensboro community.
ECSU proposal: Create a community garden on campus to provide access to healthy foods for students and the greater Elizabeth City community. The team's approach included redistributing food from local restaurants and implementing the "swipe away" meal program on campus.
Keynote Speakers:
Dr. Lindsey Haynes-Maslow, Assistant Professor and Extension Specialist in the Department of Agricultural and Human Sciences at NC State University, delivered a keynote address "Hunger in North Carolina: Who is Most at Risk?"

Dr. Danielle Lake, Director of Design Thinking at Elon University provided an overview of the design thinking model.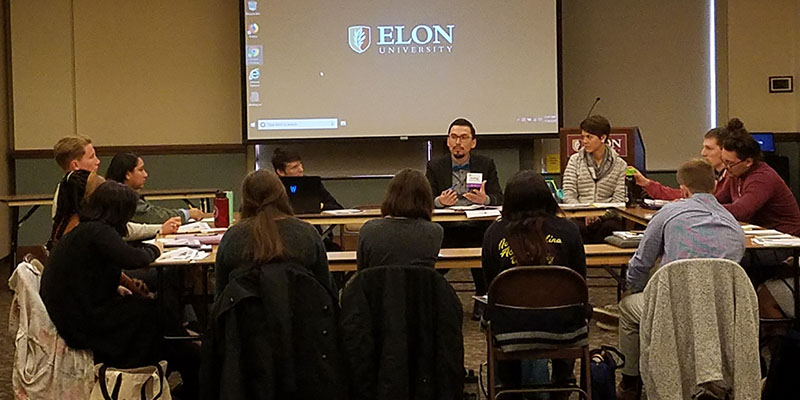 Dialogue
Students engaged in a dialogue using the "Land of Plenty: How Should We Ensure That People have the Food they Need?" Issue Guide from the National Issues Forum.
Participating teams: Central Piedmont Community College, East Carolina University, Elizabeth City State University, Elon University, Forsyth Technical Community College, Guilford College, High Point University, Lenoir-Rhyne University, NC A & T State University, NC State University, Queens University of Charlotte, UNC-Chapel Hill, UNC Greensboro, UNC Pembroke, Warren Wilson College, and Western Carolina University. 
Judges
Eric Aft, CEO – Second Harvest Food Bank of Northwest North Carolina

Leslie Boney, Director – Institute for Emerging Issues

Casey Claflin, Harvest Table Culinary Group Guest Experience – Aramark

Hunter Corn, Director – Wildacres Leadership Initiative

Eric Henry, CEO – TS Designs

Briles Johnson, Community Development Officer – North Carolina Commission on Volunteerism and Community Service

James Korfas, Elon Resident Manager – Aramark

Danielle Lake, Director of Design Thinking, Associate Professor – Elon University

Alyssa Martina Director, Doherty Center for Creativity, Innovation & Entrepreneurship – Elon University

Noah Ranells, Owner / Manager at Fickle Creek Farm, NC Farmlink – Eastern Region

Bevelyn Ukah, NC Campus Compact AmeriCorps VISTA Alum and Youth Organizer –  Food Youth Initiative

Irving Zavaleta-Jiménez, Assistant Director – NC Campus Compact
Overview of Community Change Collegiate Challenge (4C)
WHY?
Our society faces many urgent challenges that require decisive action to begin to address. Additionally, incivility and polarization are at record levels. The need for citizens to come together to find common ground for action is critical. We believe it is essential that young people gain skills to work with others to thoughtfully deliberate and weigh options for action to address these issues.
Each NC Campus Engagement member campus is invited to assemble a team of four to five civic-minded student leaders, plus an additional student to serve as an alternate. Each campus is also expected to bring an advisor to provide support.
Goals
Provide students with skills to engage in deliberative dialogue on critical issues facing our state, nation, and world.

Prepare students to explore creative problem solving, using design thinking, while seeking to find common ground for action on these same issues. Design thinking is a creative process, methods, and a mindset for more fully understanding problems worth solving and creating viable opportunities for collaborative action in response.

Build civic agency (

See this definition of Civic Agency

from the American Democracy Project.)
Skills Utilized
– Deliberation             – Dialogue
– Team work               – Presentation development
– Public speaking      – Problem solving
– Self-awareness      – Brainstorming
– Inquiry                       – Design Thinking
Questions
Contact Leslie Garvin, Executive Director (336) 278-7278.