Civic Leadership & Civic Identity Formation
NC Civic Impact Fellowship
In fall 2023 NCCE launched the NC Civic Impact Fellowship. CISA award winners are selected, with support from their institution's president/chancellor, to engage in an 18-month civic leadership initiative resulting in a civic project that will positively impact their campus.
Click on the menu above to learn more.
CSNAP Student Conference
Every other year (odd-numbered) we host the CSNAP Student Conference. This event, which was launched by a group of NC students and administrators in 1994, is NCCE's oldest event and program.  The event focuses on student civic leadership and showcases student leaders as workshop presenters and facilitators. We award the annual student awards during CSNAP.
Click on the menu above to learn more.
2023 Special Event
Civically Engaged Student Webinar Series
In spring 2023, NCCE hosted a 4-part webinar series highlighting student civic leaders from campuses in the NCCE member network. Click on the QR code or follow this link to watch the video replay of the series.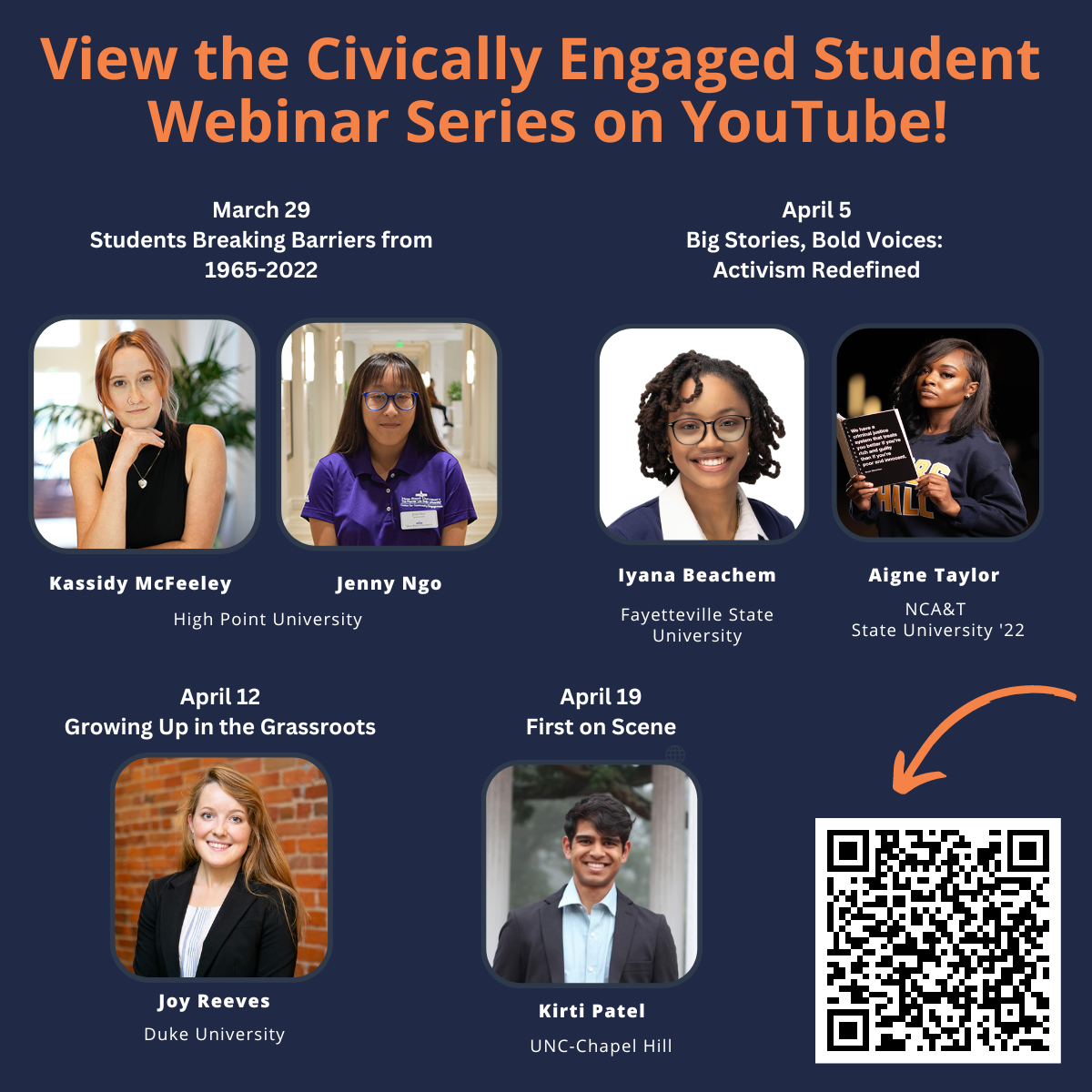 Citizen Redefined
We agree with Citizen University that "citizenship" in America is not a legal designation but a way of living as a problem-solving contributor in a self-governing community.  However, most Americans do not receive civic training to prepare for this critical role.
In spring of 2023, we collaborated with Citizen University, a non-profit organization headquartered in Seattle Washington with the mission to build a culture of powerful, responsible citizenship across the country. They have developed a K-12 curriculum, Citizen Redefined, that equips individuals to be civic culture catalysts. In the training, which focuses on "citizen identity formation," participants gain skills and tools, develop connections, and build a renewed sense of civic spirit. NCCE is the first organization to pilot the curriculum in the higher education context.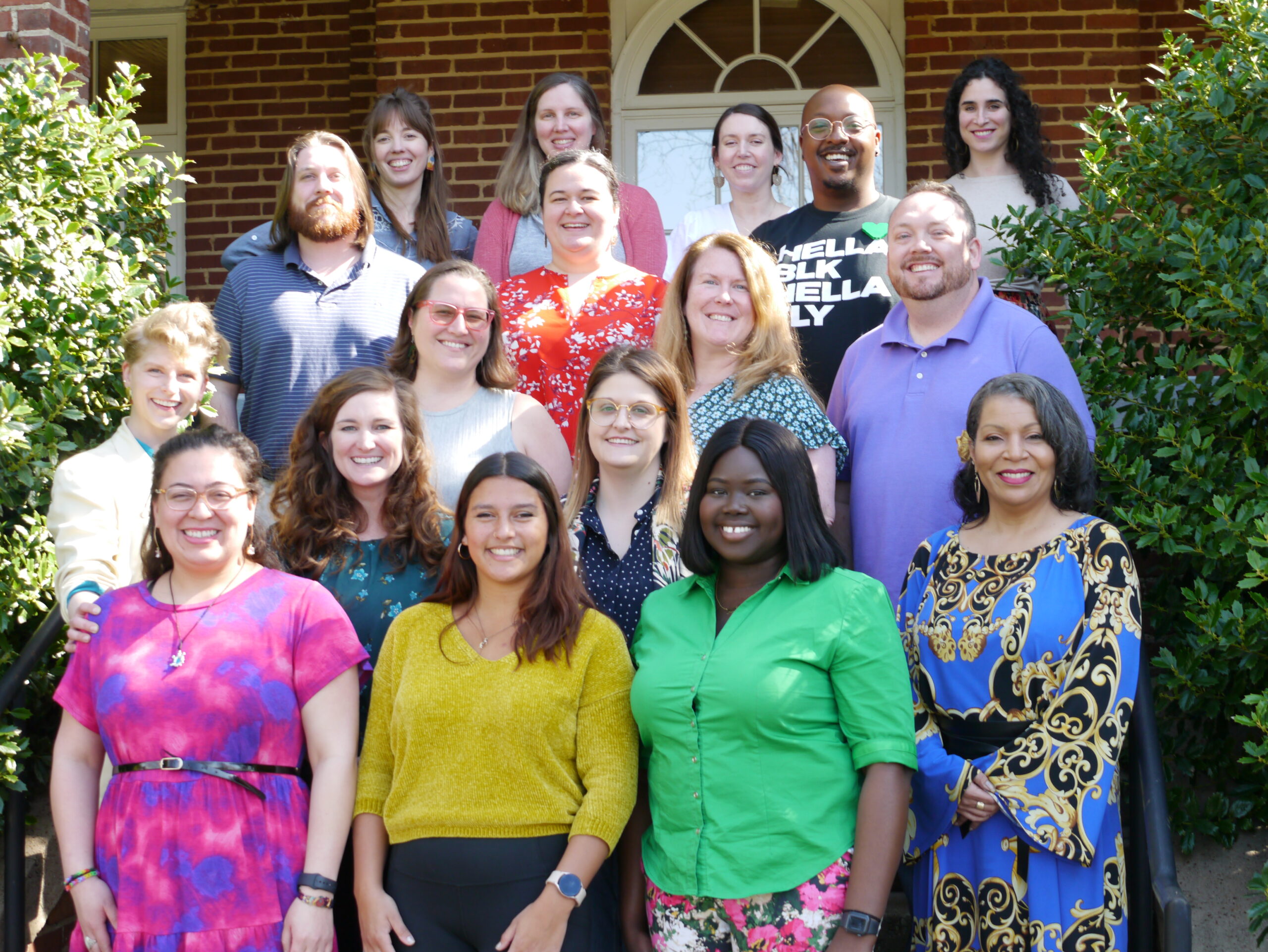 Spring 2023 NCCE Citizen Redefined Graduates
For five days in February 2023, administrators from 11 NCCE member campuses spent a week immersed in the Citizen Redefined curriculum. This engaging curriculum focuses on civic identity, moral reflection, reading and practicing power, and communication. The goal is to create civic catalysts who will organize, inspire, and activate their communities to strengthen democracy. The training ended in a Civic Confirmation Ceremony in which each participant publicly shared their civic commitment statements. 
A second training is scheduled for December 4-9, 2023.
In May 2024, NCCE will host the first Citizen Redefined camp for students participating in the newly launched Civic Impact Fellowship.
Registration Open for 2nd Citizen Redefined Training
December 4-8, 2023
Elon University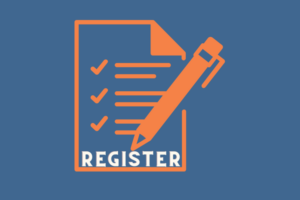 Registration is now open for administrators from NCCE member institutions to attend the Citizen Redefined Training.
Who should participate?
This opportunity is ideal for civic and community engagement offices who desire to have a formal process for training student leaders, or who want to create a new leadership program. It is also a good fit for campuses who have hosted a civic-related leadership, Scholars, or Fellows program for several years and are looking to revitalize or deepen impact. We also recommend it for campuses who host leadership programs/cohorts that don't currently have a civic component.
Ideally, a campus would adopt the full curriculum model. However, you may also select that components that best integrate with your current initiatives. Additional coaching may be available to help folks integrate the material into their work as needed.
NCCE covers all meals and materials. Campuses must cover lodging.