Dialogue & Civil Discourse
Since 2013, NCCE has helped campuses gain knowledge and skills in various civil discourse and dialogue methods. We believe such habits are critical for effective participation in a democratic society. We also believe higher education has a role to play in depolarizing North Carolina.  To date, over 1000 individuals have engaged directly in our trainings and events, thousands more have been engaged by our grantees. Contact us to learn about the on-site training we can provide to member campuses. 
Quick History of NCCE Dialogue Initiatives:
2023 – We launched the Redesigning Democracy Competition 
2022 – We piloted the NC Student Dialogue Ambassadors Initiative at four member institutions.
2020 – We launched the NC Collegiate Civics Project, funded by the Z. Smith Reynolds Foundation, allowing us to distribute mini-grants to support member campus dialogue initiatives and to facilitate the Virtual Dialogue Series. 
2020 — Our Civic Engagement Institute "Engagement 2.0: Civics, Civility, and Civil Discourse" involved teams from 22 member campuses spending a day in immersive learning. Featured models were Civil Dialogue, Intergroup Dialogue, Sustained Dialogue, Essential Partners, Everyday Democracy, Living Room Conversations, and NIF deliberative dialogue.
2019 – We launched the Community Change Collegiate Challenge (4C) a one-day immersion for students in deliberation
2018 — Our Civic Engagement Institute "Education for Democracy: Promoting Civility and Problem Solving through Deliberative Pedagogy" was facilitated by Dr. Nick Longo and Dr. Timothy Shaffer helping member campuses explore deliberative democracy. All member campuses receive a copy of the book. Over 160 individuals from 27 institutions attend.
2015 – We hosted Rhonda Fitzgerald of the Sustained Dialogue Institute for our CSNAP Student Conference "Leadership  Through  Sustained Dialogue." Students from 21 campuses received a full-day immersion into this method.
2013 — Our Civic Engagement Institute "Becoming Citizens, Becoming Community" involved a training of 175 individuals from 21 campuses in the National Issues Forum  deliberative dialogue method. Since that time, we have hosted trainings in how to moderate forums for over 800 faculty, staff, students, and community members from more than 100 colleges and universities. If you are interested in bringing Moderator Training to your college, university, or community group, contact NCCE. 
To date, we have introduced NCCE members to the following 13 unique dialogue and civil discourse models. 
In 2020 we launched this series to introduce our member institutions to multiple dialogue and civil discourse methods. Three of the sessions are available for viewing here. A total of 253 individuals have participated from 35 colleges & universities and two community partner organizations.
Civil Dialogue (featuring Jennifer Linde) – December 5, 2022
Aristotles Cafe (featuring Hassan Ghiassi) – September 29, 2021 (overview); September 29, 2021 (faculty training); September 30, 2021 (student training)
Candidly Speaking (featuring Adolpha Cole) – August 31, 2021
Bring it to the Table (featuring Julie Winokur) – September 3, 2020
Democracy/Socrates Cafe (featuring Chris Phillips) – July 21, 2020
Braver Angels (featuring Bill Doherty) – July 9, 2020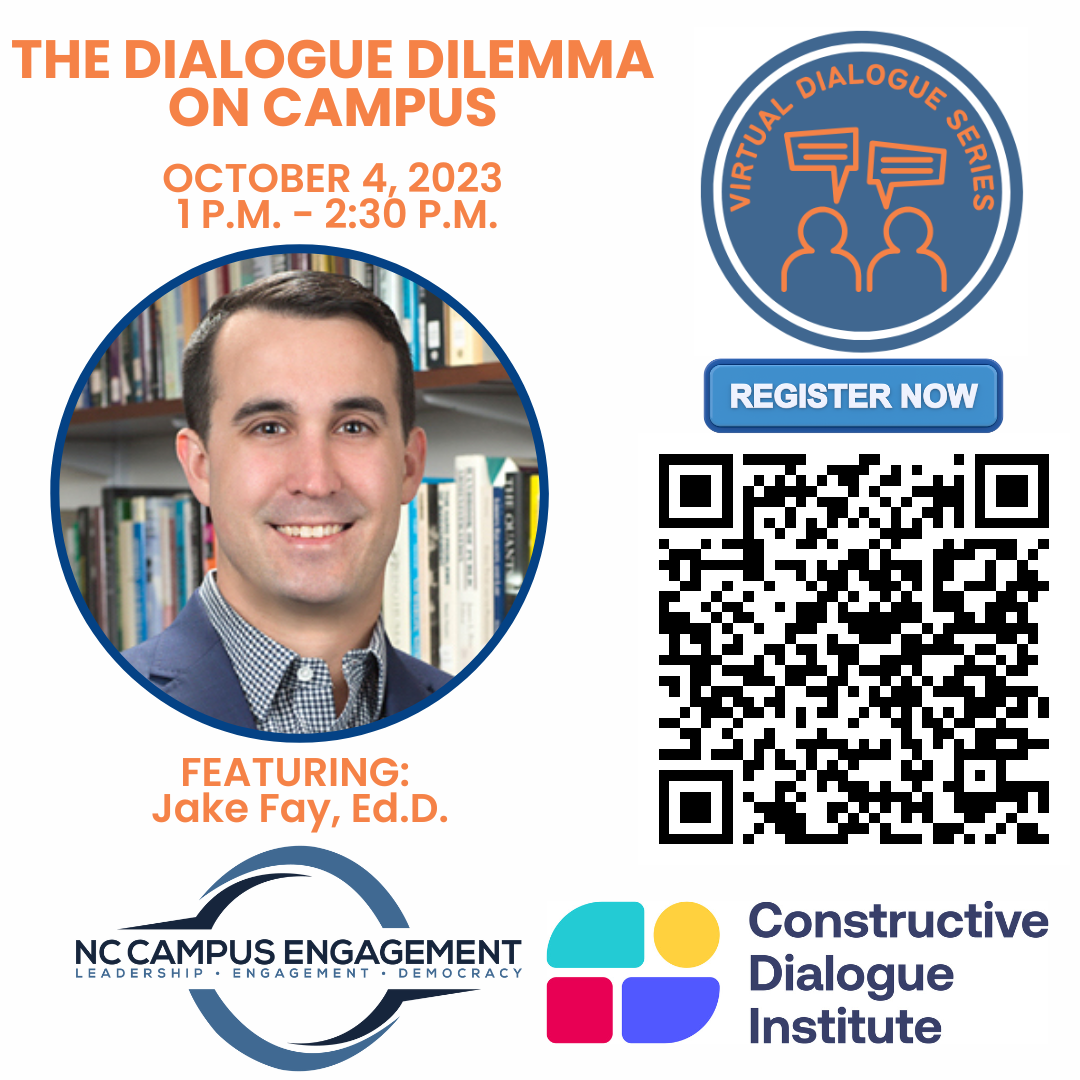 According to a 2021 HxA survey, 63% of college students agreed that the climate on their campus prevents people from saying things they believe. Yet 88% of students in the same survey also felt that their institutions should teach them how to interact respectfully with people whose beliefs differ from their own. This dialogue dilemma is often treated as a crisis, but that is a mistake. It is, rather, a pedagogical challenge. Most students want to interact with each other, yet they aren't sure how. Teaching students how to interact respectfully across differences – and learn from each other in the college classroom – is thus a prime challenge for all institutions of higher education. Not only that, it is vital to civic education efforts. Learning to interact across differences is an undervalued, yet extremely important democratic skill that is at the heart of the ability of democracy to transmute conflict into political action. 
Join NC Campus Engagement and the Constructive Dialogue Institute to discuss the foundations of constructive dialogue as a solution to the pedagogical challenge of dialogue in the classroom. In this session we will the explore tools and strategies created by the Constructive Dialogue Institute to help you address this challenge in your classroom and on your campus.
 Jake Fay, Ed.D
Jake Fay is an educator at heart with years of experience teaching and thinking about civic discourse. He was most recently a fellow at the University of California's National Center for Free Speech and Civic Engagement and an Institutional Fellow at the Edmond J. Safra Center for Ethics at Harvard University, where he headed up the Intercollegiate Civil Disagreement Partnership. He has taught at Bowdoin College, the Harvard Graduate School of Education, and Harvard College. Jake holds an Ed.D and Ed.M from the Harvard Graduate School of Education, an MA in American History from Brandeis University, and is a proud graduate of the Shady Hill Teacher Training Course. He is the co-editor, both with Meira Levinson, of Dilemmas of Educational Ethics: Cases and Commentaries and Democratic Discord in Schools: Cases and Commentaries in Educational Ethics.
Spark Grants  
We provide grants to member institutions to facilitate and promote civil discourse and dialogue.
2023-24 Grantees ($500):
Elizabeth City State University

Greensboro College

Piedmont Community College

UNC Charlotte

UNC School of the Arts

Wake Technical Community College

Western Carolina University
2022-23 Grantees ($500):  Duke University, Mars Hill University, Piedmont Community College, and William Peace University
RESULTS: 21 dialogues engaging 376 individuals 
2021-22 Grantees ($1,000): East Carolina University, Elizabeth City State University, Lenoir-Rhyne University, NC State University, Piedmont Community College, UNC Asheville, UNC-Chapel Hill, UNC Greensboro and UNC Pembroke
RESULTS: 133 dialogues engaging 2497 individuals
2020-21 Grantees ($700): Campbell University, Elizabeth City State University, Lenoir-Rhyne University, NC State University, Piedmont Community College, UNC Asheville, UNC Pembroke, William Peace University, and Winston-Salem State University

RESULTS:  59 dialogues engaging 1254 individuals
The Reunited States Film Screenings and Filmmaker Conversations
In February 2021, NCCE partnered with The Reunited States to sponsor access to this film for 20 member campuses. Some campuses hosted a single screening, while others shared the link with a group of select students to view and discuss. On February 25, NCCC Executive Director, Leslie Garvin, facilitated a conversation with filmmaker Ben Rekhi and film subject Steven Olikara. This film features several Americans seeking to depolarize and bridge the partisan divide.