Redesigning Democracy Competition

This new competition, launching in Spring 2023, will bring together students, ideally from across the political spectrum, to wrestle with some of the most pressing issues related to our democracy. After student teams engage in dialogue and discussion, they will develop ideas for presentation on how to address the issue. Expert judges will determine the best ideas and the winner teams will receive prizes. Funding is provided by the Z. Smith Reynolds Foundation.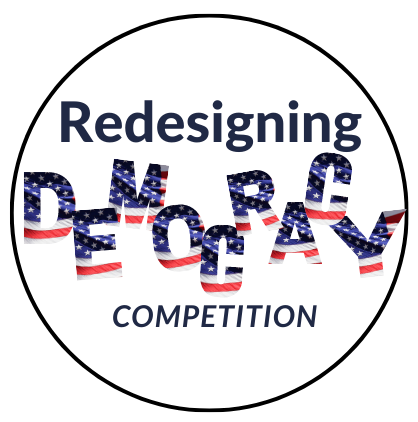 Redesigning Democracy Pilot
March 25, 2023
William Peace University, Raleigh, NC (9:00 a.m. – 4:00 p.m.)
Breakfast, lunch, and snacks provided.
The pilot Redesigning Democracy competition is a partnership with the Braver Angels Alliance of Central North Carolina and will feature the new Common Ground Workshop on Trustworthy Elections.  We are inviting NC Campus Engagement member institutions to organize teams of four students, plus an advisor/mentor to participate. Braver Angels workshops are designed to draw from participants across the political spectrum. Student teams should include, as much as possible, an even split (two Reds or right leaning students) and (two Blues or left leaning students). It is acceptable for one student per team to consider themselves "purple" or more centrist leaning.
We chose this team because, in recent years, there has been a growing distrust of election processes and outcomes. This distrust escalated into the events of January 6, 2021. This competition is an opportunity for students to explore why this is occurring and pathways for common ground to rebuild or strengthen trust.
Students will engage in the workshop and then each team will have time to prepare a presentation in which they propose an idea for how to ensure elections are more trustworthy. A panel of judges will award prizes to the top two teams (each team member will receive a $100 Amazon gift card and the institution will receive a $500 cash prize to support civic engagement efforts).  
Agenda
8:30 a.m. – Breakfast served
9:00 a.m. – Welcome, introductions, overview
9:30 a.m. – Common Ground Workshop – Part I
12:30 a.m. – Lunch
1:00 p.m. – Common Ground Workshop – Part II
2:00 p.m. – Team presentation prep
3:00 p.m. – Presentations and judging
3:45 p.m. – Announcement of winners and debrief
4:00 p.m. – Departure
Registration
Registration is extended to March 14. You will be asked to enter the following: Advisor name, email, department and the name, email, year in school, major, and political affiliation of each of the four student team members.