History
The higher education sector in North Carolina has a long and deep history of community engagement. On this page you can learn how North Carolina Campus Engagement fits into the story. In 2022, we released "Civic & Community Engagement: A North Carolina Tradition" which provides a detailed history of the CCE movement in North Carolina and tells the story of our predecessors, NCCC and NCCV. We are grateful to Patti H. Clayton, community-campus engagement consultant (PHC Ventures) and NCCE's Practitioner-Scholar-in-Residence, and Kristin Medlin, Director of Research and Development at Collaboratory and Visiting Scholar with UNC Greensboro's Institute for Community and Economic Engagement for producing this publication.
North Carolina Campus Engagement
2022-present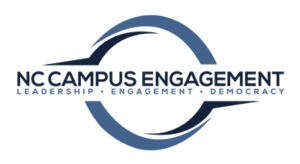 On July 1, 2022, North Carolina Campus Compact became North Carolina Campus Engagement (NCCE). This evolution will allow us to continue to deepen and strengthen our place-based mission to serve North Carolina campuses and communities. While no longer an affiliate of Campus Compact, NCCE will continue to build partnerships with national and regional organizations that enhance our local initiatives. 
The new name was approved by the Executive Board after a thoughtful selection process that involved a survey of members, consultation with the Advisory Council, and feedback from key stakeholders. The new name clearly conveys our goal to promote campus engagement – both within the institution and beyond.
The NCCE state office continues to be hosted by Elon University and the former NCCC staff, Executive Board, and Advisory Council continues to guide the organization. 
North Carolina Campus Compact
2002-2022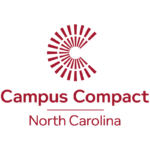 In 2002 NCCV connected to the national higher education volunteerism and service learning movement, by becoming an affiliate of Campus Compact and forming North Carolina Campus Compact (NCCC).  Leo M. Lambert, the president of Elon at the time, led the charge to invite presidents to form NCCC and offered to host the state office. Upon formation NCCV merged with NCCC who took over hosting the yearly student and faculty conferences. 
North Carolina Campus Volunteers (NCCV)
1994-2002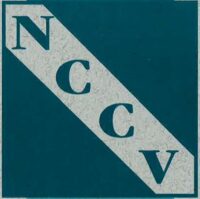 During a COOL Conference in 1993 (now the IMPACT National Conference), a group of students and community engagement professionals from North Carolina realized that student volunteerism was growing rapidly on campuses across the state. In 1994, a coalition of students and staff came together to host a student conference at Elon University for campuses in the Piedmont Region of the state. The 1995 conference, also held at Elon, was expanded to include institutions from all across North Carolina. The group continued to host the annual conferences and in 1998, the group formally established NCCV to unify campus volunteerism across the state.  That year, they hosted the first Service Learning Institute for faculty and administrators.  
NCCV was hosted at Elon College (now Elon University), coordinated by John H. Barnhill, the first director of their Center for Service Learning (now the Kernodle Center for Civic Life), and governed by an Executive Board.
We are especially grateful to John H. Barnhill for his persistence and leadership in launching this collective movement in North Carolina. In 2011, we named our top student award, the Barnhill Civic Trailblazer Award, to honor him. 
We appreciate Elon University for their ongoing support and truly appreciate the leadership of former Elon President Dr. Leo M. Lambert and Dr. Smith Jackson, former Vice President for Student Life, for their leadership of NCCC in the formative years.  A special thanks to Dr. Lisa K. Keyne, Executive Director from 2006-2014 and John H. Barnhill, Executive Director from 2002-2006.   
We also owe a debt of gratitude to the North Carolina pioneers of service-learning and community engagement. This list includes, but is not limited to, community engagement professionals who then served on the first NCCV Executive Board and in the following positions:
John H. Barnhill, Assistant Dean of Students at Elon University

Paige Wilbanks, Assistant Director of Student Development and Coordinator of Volunteer Service, Wake Forest University

Becky Davenport, Assistant Dean of Students, UNC Charlotte

Sam Carothers, Chaplain, Meredith College

Tait P. Arend, Coordinator of Service Learning at Elon
We would also like to acknowledge Robert L. Sigmon, Betsy Alden (Duke University), Lynn W. Blanchard (UNC-Chapel Hill), Angela Jeter (Johnson C. Smith University), David Malone (Duke University), Spoma Jovanovic (UNCG), Rachel Willis (UNC-Chapel Hill), Patti Clayton (NC State University), Kathy Manning (Elon), and Rosa Anderson (NCCU) who were part of the early discussions to form NCCC.