Alternative Break Scholarship
The Alternative Break Scholarship, formerly known as the Marshall Alternative Break Scholarship, supports the participation of college students in an alternative break program organized by a North Carolina Campus Engagement member school.
What is an "alternative break?" According to Breakaway, a national non-profit that supports the development of high-quality alternative break programs, an alternative break is "a trip where a group of college students engage in direct service, typically for a week. Each trip has a focus on a particular social issue, and immersion in that issue begins long before the trip itself. Students educate themselves and each other, then do hands-on work with relevant organizations."
Our scholarship was created in 2015 by Aaron Marshall, a 2013 Community Impact Student Award winner and the 2014 Barnhill Civic Trailblazer Award recipient. During his undergraduate career at Western Carolina University, Aaron was part of nine alternative service trips as a participant and leader! Aaron knows firsthand how these programs help students step out of their comfort zones while providing real opportunities for student leadership. The Marshall Alternative Break Scholarship gives other students the chance to have similar transformative experiences.
The Alternative Break Scholarship (up to $250) will fund the student's participation in a future alternative break trip during the current  academic year. Selection of scholarship recipients is a competitive process.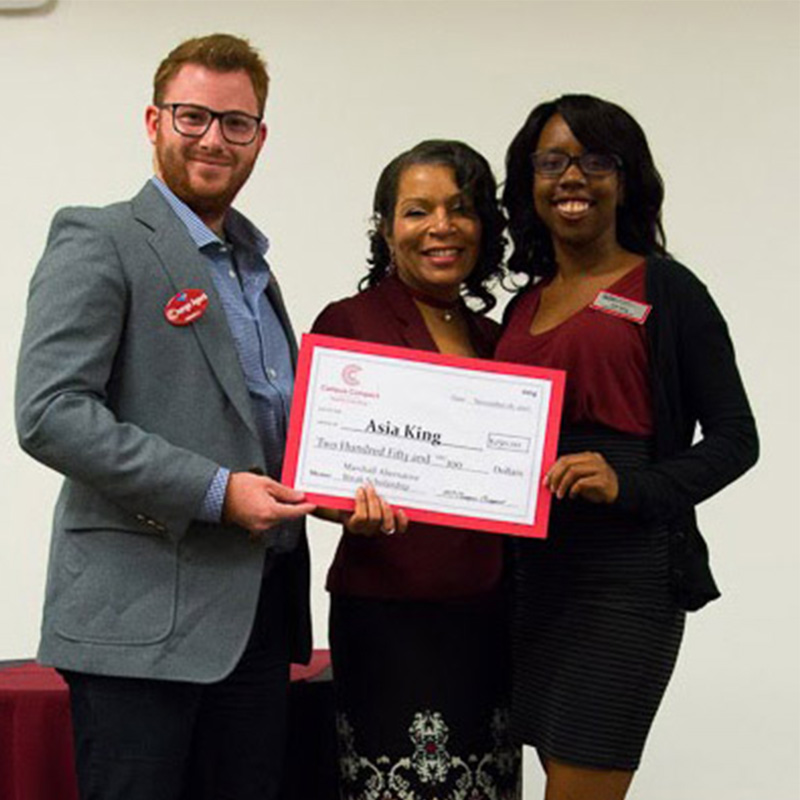 2017 recipient Asia King (far right) with Marshall and Leslie Garvin, NC Campus Engagement Executive Director
2022 Marshall Scholarship Recipients
We recognized the 2022 scholarship recipients during a virtual Awards Ceremony on November 18, 2022.

Lily Hernandez, Appalachian State University, was funded for a December 2022 break trip to the Dominican Republic with a focus on clean water access by helping set up domestic collection systems and wells in local communities.

Cara Martin and Callum (Cassie) Burnett, UNC Pembroke, were funded for a March 2023 break trip to Baltimore, MD with a focus on indigenous culture. 
Check out the video of the awards ceremony.
Selection Criteria
The student must be from an

NC Campus Engagement member school

. 

The student must demonstrate capacity and desire to lead, facilitate, or organize a Break Trip.

The Alternative Break Trip must occur in the current academic year. Break trips in fall, winter, spring, or summer are eligible.

Preference will be given to students who are

Community Impact Award

winners and/or who currently receive financial aid, and/or who are Active Duty, Reservist, National Guard, or Veteran or their dependent, and/or are helping lead a break trip.
The call for applications is released the first week in September and due the first week in October.
Winners will be announced at the CSNAP Conference in even-numbered years. In odd-numbered years, the student will be recognized during a virtual ceremony. Scholarship recipients must show documentation of anticipated break costs and provide verification of trip participation before receiving funds.
Past Marshall Alternative Break Scholarship Winners
2021 – Katrina Gomez, NC State University
2020 – Award suspended due to COVID restrictions limiting travel
2019 – Brea Brown, University of North Carolina Pembroke and Daniel Tizon, Western Carolina University
2018 – James Carroll, Western Carolina University and Jimmy Strickland, Central Piedmont Community College
2017 – Asia King, NC State University (Read about Asia's experience.)
2016 – Yaqueline Yanez, William Peace University and DaQuane Cherry, Central Piedmont Community College
2015 – Madison Wilcox, UNC Pembroke (Read about Madison's experience.)