Lambert Engaged Leader Award
In 2012, the NCCE Executive Board launched the Leo M. Lambert Engaged Leader Award to honor the significant contributions of Leo Lambert, former Elon University president, who played a key role in the formative years of NCCE (see History). The award is presented annually at the PACE Conference or Presidents Forum. 
Past Lambert Engaged Leader Award Recipients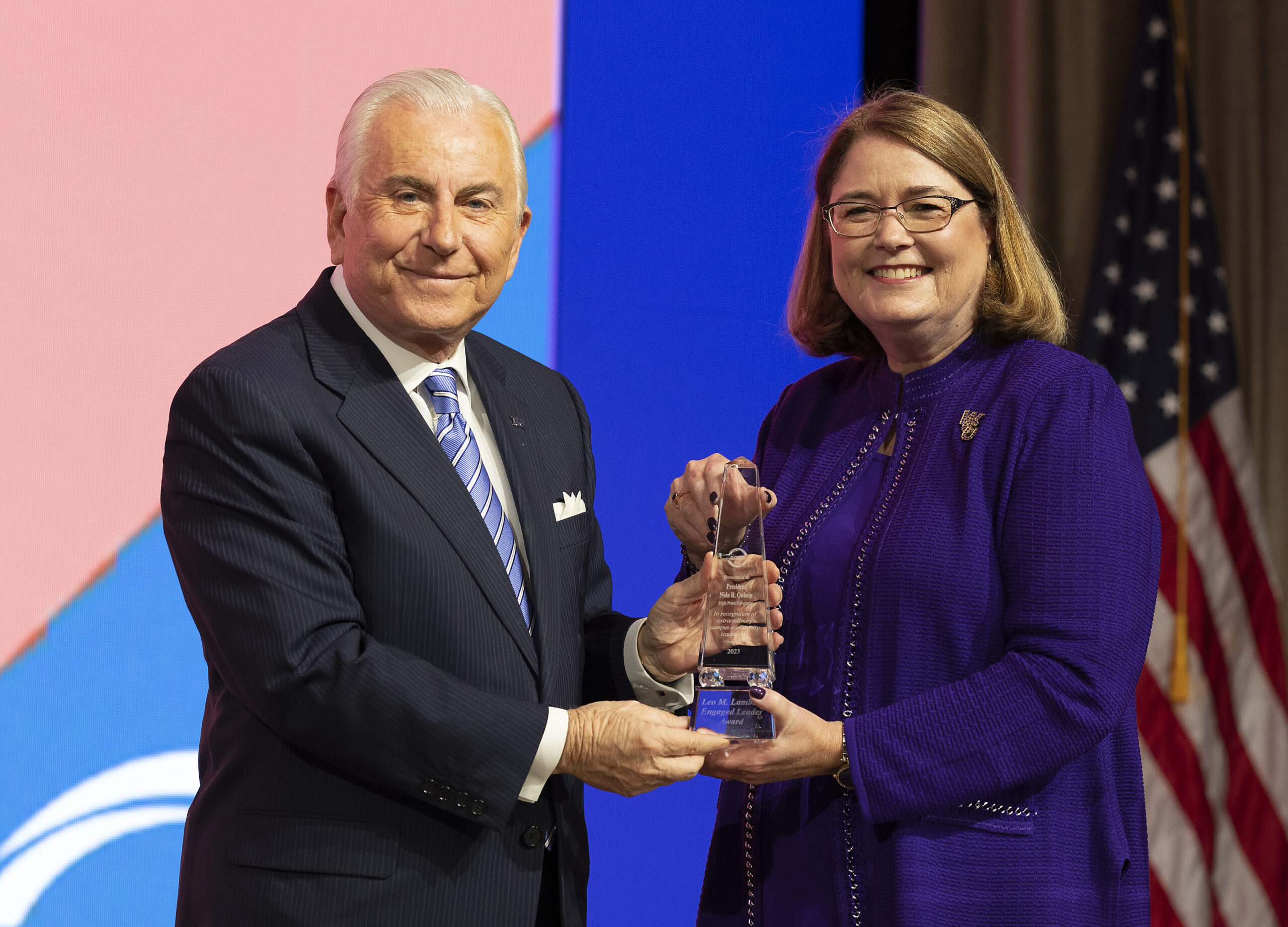 2023 recipient, President Nido R. Qubein, with Chancellor Kelli Brown, Western Carolina University and NC Campus Engagement Executive Board Chair

2023  – President Nido R. Qubein, High Point University

2021 & 2022 – Suspended due to the COVID pandemic
2020 – Chancellor Elwood L. Robinson, Winston-Salem State University
2019 – President Hope Williams, North Carolina Independent Colleges & Universities (NCICU)
2018 – President Carol Quillen, Davidson College
2017 – President William Ingram, Durham Technical Community College
2016 – Chancellor Steve Ballard, East Carolina University
2015 – President Nathan O. Hatch, Wake Forest University
2014 – Chancellor Philip L. Dubois, University of North Carolina at Charlotte
2013 – Chancellor Harold L. Martin, Sr., North Carolina Agricultural & Technical State University
2012 – Chancellor Linda Brady, University of North Carolina at Greensboro
Lambert Engaged Leader Award Eligibility

A president or chancellor at an active NCCE member institution may be nominated by a peer president within the member network. Current members of the NCCE Executive Board are not eligible.
Selection Criteria for the Lambert Engaged Leader Award
The Carnegie Foundation defines Community Engagement as the collaboration between institutions of higher education and their larger communities (local, regional/state, national, global) for the mutually beneficial exchange of knowledge and resources in a context of partnership and reciprocity. The Engaged Leadership Award recognizes a NCCE president or chancellor that has fostered creation and/or deepening of community engagement. Specifically, the president or chancellor:
Pursues an institutional mission that demonstrates commitment to the public purposes of higher education.

Invests in internal and external processes and resources that enable community-building.

Encourages broad participation in setting goals for community-campus partnerships.

Understands the real needs of the community, state, or region, seeking ways for the campus to be quickly responsive in meeting those needs.

Has demonstrated the character of leadership, entrepreneurship, risk-taking, or bold forward thinking in the support of community engagement.

Has established ways to measure progress and success of the institution in making a difference in various communities.

Is personally engaged, modeling a life of community engagement.
Nomination Submission Requirements for Lambert Engaged Leader Award
The Call for Nominations will be announced in October of each year.
Step One: A president or chancellor member of NCCE submits a letter (not to exceed two) that describes how the candidate fits the characteristics of an engaged leader.
Step Two: A staff person at the campus of each nominee is contacted to provide:
A résumé or curriculum vitae of the nominee (not to exceed two pages).

A letter of support endorsing the candidate's community engagement efforts (not to exceed two pages):

From a community member – could be a member of the Board of Trustees

From a staff or faculty person
Step Three: The NCCE Executive Board selects the awardee.
For questions regarding the Lambert Engaged Leader Award, please contact Leslie Garvin.
Leo M. Lambert
Dr. Leo M. Lambert, President Emeritus, Elon University
Leo M. Lambert led Elon's rise to national prominence from 1999 to 2018, promoting a student-centered culture that values strong relationships between students and their faculty and staff mentors. Focused on developing students as global citizens, ethical leaders, and creative problem-solvers, Lambert led two strategic plans, creating a model for the modern liberal arts university. 
Led by President Lambert, Elon built a national reputation for academic excellence across the curriculum, and for its innovative programs in study abroad, undergraduate research, leadership, interfaith dialogue, civic engagement and community service, as well as preparing students for meaningful careers and advanced study.
In 2002, Dr. Lambert convened a group of 185 presidents and chancellors to launch a Campus Compact affiliate in North Carolina and agreed to host the state office at Elon. He served as the NC Campus Compact Executive Board Chair until 2008. He also served on the national Campus Compact Board of Directors from 2003-2009.
With a priority on expanding partnerships with K-12 public education, Lambert was instrumental in the creation of the Elon Academy in 2007, an enrichment program for academically talented high school students in the Alamance-Burlington School System who have financial need or have no family history of college attendance. The program has become a national model of excellence, enrolling nearly all of its graduates in higher education.
Under Lambert's guidance, land was designated for the creation of the Elon University Forest, and the university created an environmental sustainability master plan to reduce energy consumption and set conservation standards for university construction and operations. In addition, the university created the Elon Environmental Center on the Loy Farm property as a hub for engaged learning, where students learn practical skills in sustainable agriculture, design, and construction techniques. The Center includes a large solar farm and serves as a place for students to study the environmental, business, social, and political implications of renewable energy at Elon.
In 2009, he received the inaugural William M. Burke Presidential Award for Excellence in Experiential Education from the National Society for Experiential Education. In 2010, he received the Periclean Service Award from Project Pericles. As a prominent figure in North Carolina's Triad region, Lambert was also named one of the "most influential leaders" for six consecutive years by the Triad Business Journal.
In 2011, he was named the #1 large workplace leader in a survey by the Greensboro News & Record. He also received the Thomas Z. Osborne Distinguished Citizen Award, the highest honor bestowed by the Greensboro, NC Chamber of Commerce, and was named a "Father of the Year" by the American Diabetes Association Greater Greensboro Area Father's Day Council.
Lambert has written extensively about post-secondary education and is co-author of a book, The Undergraduate Experience: Focusing Institutions on What Matters Most, published by Jossey-Bass (2016). Lambert assumed the title of president emeritus on March 1, 2018, and is a professor in the School of Education.