NC Campus Voting Challenge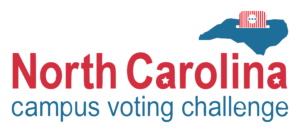 About the Challenge
The NC Campus Voting Challenge is a nonpartisan recognition program for higher education institutions in North Carolina with a commitment to increasing student voter participation and engagement on campuses across the state. 
There will be three award categories for both 4-year institutions and 2-year institutions, awarded based on student voter participation in the November 2022 election using data from NSLVE. We will announce awards for highest campus voter turnout, most improved campus voter turnout, and highest student voter registration rate.
NC Campus Engagement is facilitating this voting challenge in collaboration with the ALL IN Campus Democracy Challenge (ALL IN), a national nonpartisan initiative of Civic Nation, a 501(c)(3) organization and You Can Vote. Awards will be based on campuses' National Study of Learning, Voting, and Engagement (NSLVE) reports generated by the Institute for Democracy & Higher Education at Tufts University in Mass. Participation in the North Carolina Challenge will automatically include participation in the national ALL IN Campus Democracy Challenge. 
Institutions that opt into the Challenge will be provided guidance and tools to create an action plan for increasing student engagement on their campus. There is no sign-up cost to participate.
Learn more about how the NC Campus Voting Challenge works, other state voting challenges and if you have any further questions you can email Ryan Drysdale, Director of Impact & State Networks of the ALL IN Campus Democracy Challenge.
What does my institution need to do?
Join ALL IN
Any accredited, degree-granting, post-secondary institution may join and there is no cost to participate. Any employee of the institution completes this join form. Joining ALL IN automatically includes your campus in the North Carolina Campus Voting Challenge. 
Convene a campus-wide voting coalition
A campus-wide voting coalition will develop and implement a democratic engagement action plan. This coalition should include students, faculty, student affairs, community/national organizations, and local election office staff and can be any size.
Develop and implement an Action Plan
The campus-wide voting coalition develops an action plan that guides increased engagement on campus. ALL IN has example action plans, guidelines, rubrics, webinars, and other resources available. Share your action plan with the campus community and submit to ALL IN to be eligible to earn national awards.
 2022 Action plan submission opportunities:
Early submission opportunity: December 15, 2021 

Second submission opportunity: May 31, 2022

Final deadline: November 8, 2022
 Check out the Action planning guide and rubric to develop and evaluate your engagement action plans. Action plans should be submitted via email to actionplans@civicnation.org.
Share NSLVE report with ALL IN
Institutions participate in the National Study of Learning, Voting, and Engagement (NSLVE) at the Institute for Democracy & Higher Education (IDHE) at Tufts University. There is no cost to participate in NSLVE and the study is compliant with the Family Educational Rights and Privacy Act (FERPA).
Every two years, institutions participating in NSLVE receive a detailed campus voter registration and voter turnout report from IDHE. Campuses share their NSLVE report with ALL IN to be eligible to earn state and national recognition.
Check here to see if your campus has already authorized NSLVE. If your campus hasn't authorized NSLVE, submit this 2-page authorization form to NSLVE@tufts.edu. 
Earn a recognition seal and state and national awards
Using campus voter turnout data from NSLVE reports, ALL IN issues recognition seals and national awards.
 In addition to national recognition, North Carolina institutions participating in ALL IN are also automatically eligible to earn state awards from the NCCE through the North Carolina Campus Voting Challenge.
2020 North Carolina Campus Voting Challenge Award Winners
Highest Voter Registration Award: Appalachian State University
Most Improved Voter Turnout Award: Wake Forest University
Highest Voter Turnout Award: Meredith College
Best Campus Democratic Engagement Action Plan Award, 2-year Institution: Davidson-Davie Community College
Best Campus Democratic Engagement Action Plan Award, 4-year Institution: University of North Carolina at Asheville & East Carolina University (tied)