Hunger and Homelessness Awareness Week is an annual program in which individuals, organizations, and communities come together to raise awareness of the issues of hunger and homelessness. The program was founded in 1975 at Villanova University, and hundreds of thousands of folks from all over the country have been a part of the program since. Participating groups spend the week holding a series of educational, service, fundraising, and advocacy events.
Several NC Campus Compact Hunger Corps VISTAs participated this year. Read about their projects and events below!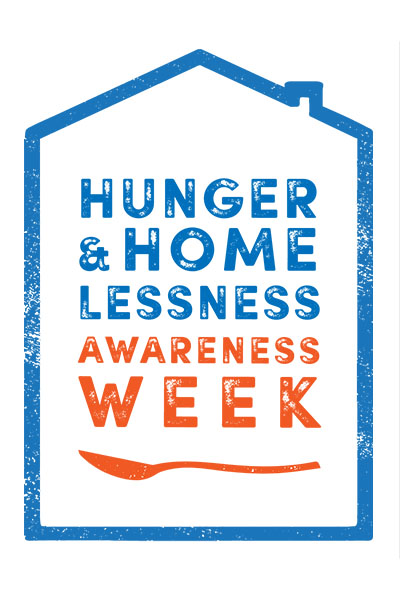 Anna Johnson – Warren Wilson College – Empty Bowls
Anna played a critical role in planning WWC's Empty Bowls event that was held virtually on November 17th. The event, which is normally held in person, raises money for local community partners working within food security. 
Funds are raised through sales of handcrafted ceramic bowls made by WWC's Ceramics Department. There is also a raffle with valuable prizes donated by student groups, local restaurants, and small businesses. This event is a wonderful example of bringing the whole Warren Wilson community together to address food security and homelessness.  
This year, the event raised over $2,000.00 for ASAP Connections,  a local non-profit that works to bridge the gap between access to healthy, affordable food and the ability for farmers to survive on their harvest sales through the "Double Up" SNAP program. This program allows SNAP benefits to be doubled at several local farmers markets, increasing the accessibility and affordability of fresh, local produce.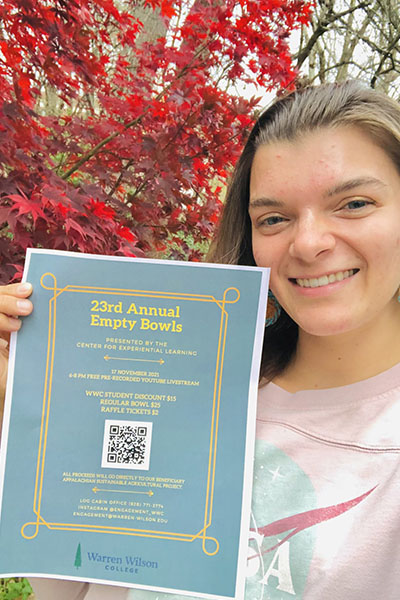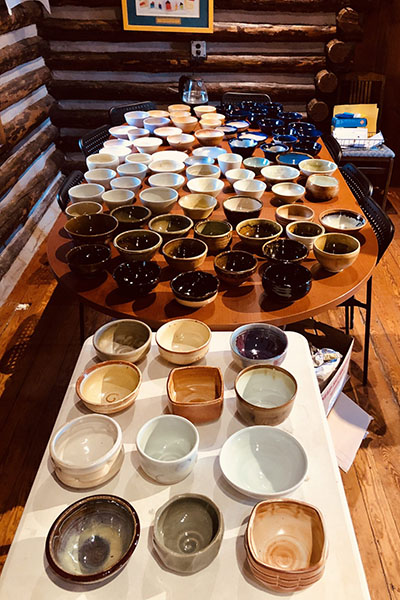 This event was particularly important to Anna because she is deeply passionate about addressing food insecurity and homelessness in her community. She says that these issues are "incredibly intersectional," which is another reason she is so drawn to the Empty Bowls event.
Be sure to keep up with all the great work Anna is doing at Warren Wilson by following @Engagement_WWC on Instagram!  You can watch the livestream of the event on YouTube by searching "23rd Annual Empty Bowl, Warren Wilson College." 
Mitchell Moravec – NC Central University – Let's Eat and Speak!
Mitchell worked with NCCU's Counseling Center, HOPE (Health Equity, Environment, and Population Health) program, NCCU's Student Affairs, and the Collegiate Recovery Community to host a tabling event called 'Let's Talk and Eat!'. This event brought together the concepts of food security and recovery and prevention services related to substance abuse and addiction.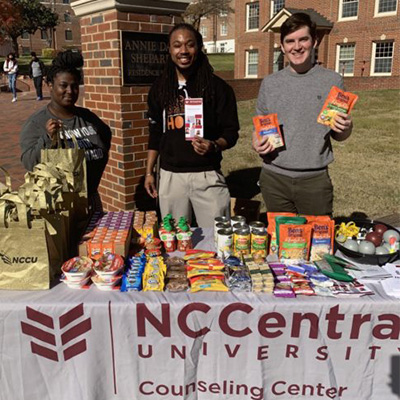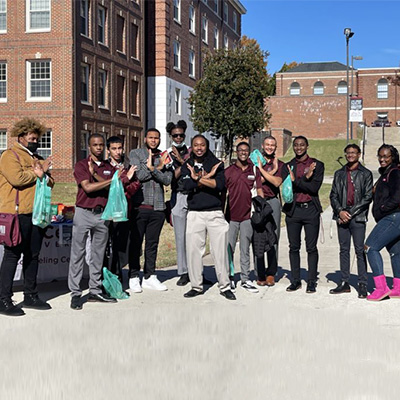 They handed out snacks and groceries and talked about food security while also providing information about substance abuse and addiction. This was a great opportunity for Mitchell to meet the students and community of NCCU outside of the on-campus pantry where he spends most of his time. In his efforts to raise awareness about the pantry, he spoke to nearly 70 campus community members!
We applaud Mitchell's drive to bring the community together and get the word out about the great resources offered at NCCU. Be sure to follow the pantry's Instagram @NCCUCP to stay up to date with Mitchell's projects!
Laura Manigrasso – Alamance Community College – Turkey Bowl
To mark Hunger and Homelessness Awareness Week, Laura participated in Phi Beta Kappa's Turkey Bowl as part of the NC Campus Compact/Food Lion Feeds 3rd Annual Collegiate Hunger Challenge. Students bowled with frozen turkeys for prizes and also had the opportunity to take home fresh produce from the farmer's market, freshly laid eggs, fruit smoothies, and chili made by Alamance Community College's Culinary Department.
Laura started service in the beginning of November, so this event was the perfect venue for her to get to know students, faculty, and staff on campus. She was able to meet nearly 40 individuals who showed interest in volunteering with her community garden project! She is on a great track to building capacity at ACC to address issues of food insecurity on campus!
The NC Hunger Corps VISTA position at ACC is made possible, in part, through the generous sponsorship of the Food Lion Feeds foundation.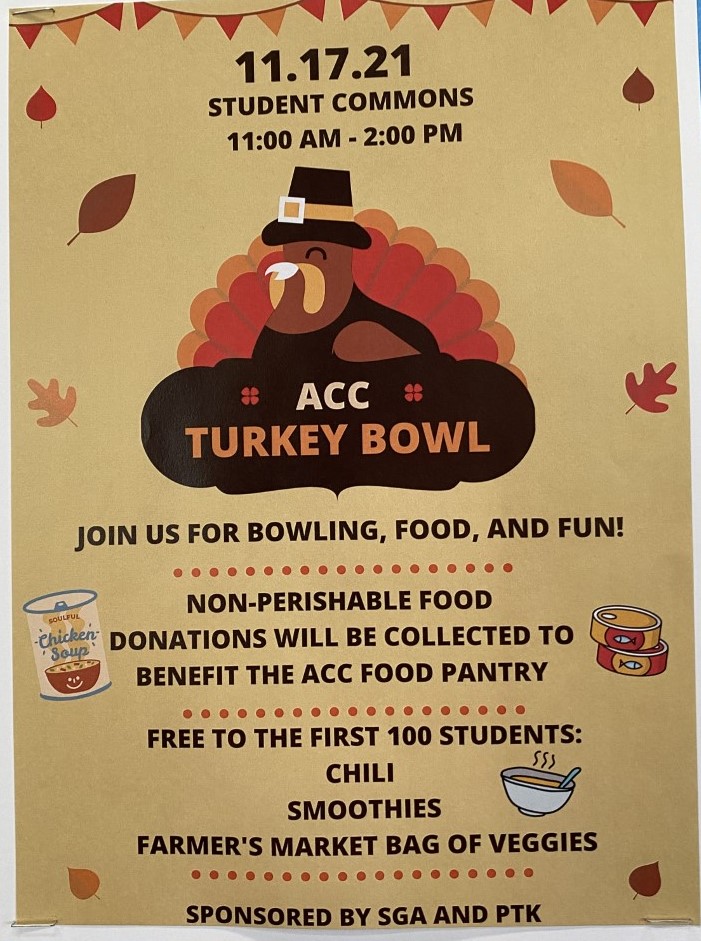 Neely Griggs – Wingate University – Infographic Magic!
Neely researched and compiled information regarding hunger and homelessness specific to the Wingate campus community and broader Union County community in which she serves in order to raise awareness about food insecurity and homelessness in her service region.   Check out these awesome infographics to learn more about hunger and homelessness in Union County!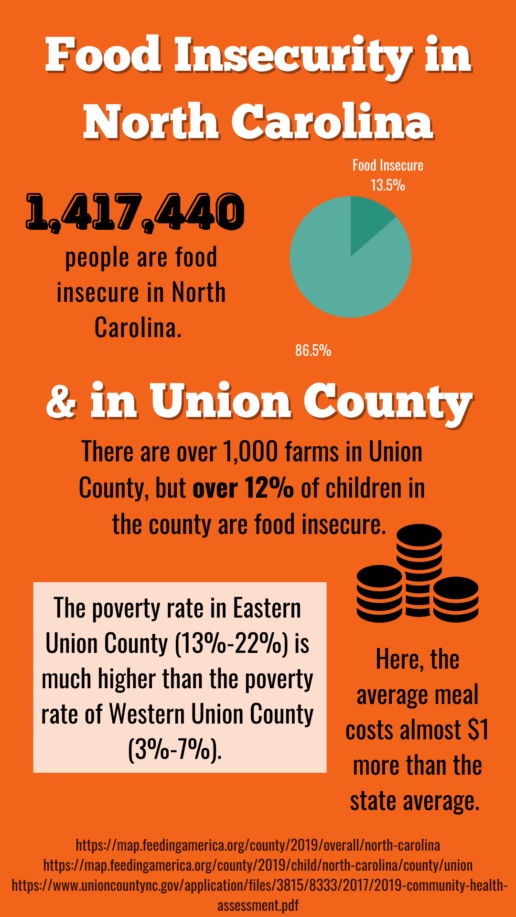 Special thanks to VISTA Leader, Hannah Fraser, for compiling this blog post.