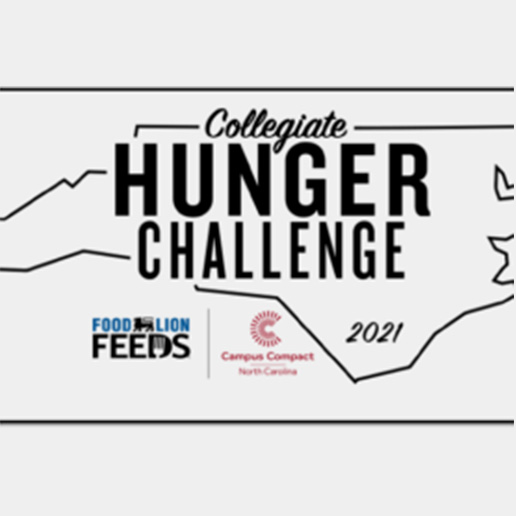 NCCC is partnering with Food Lion, LLC grocery stores for the third annual NC Collegiate Hunger Challenge.  Eleven campuses are competing for up to $22,000 to put toward fighting hunger on and around campus.  Through the competition, which runs through Dec. 10, 2021, participating campuses earn points based on several activities all centered around collecting and donating food for neighbors in need or around hunger awareness efforts.  Schools also earn points by sharing their efforts on social media (Instagram and Twitter).  You can follow #foodlionfeeds plus the school hashtags listed below to see the schools in action.
As part of the challenge, each school nominates an MVP Student Hunger Ambassador who is responsible for leading the effort on each campus, with guidance from a faculty/staff mentor.
 2021 Participating Institutions:
Alamance Community College (#Accfeedsalamance)
Central Piedmont Community College (#conquerhunger)
Davidson College (#davidsonfeeds)
Durham Tech Community College (#DTfeeds)
East Carolina University (#piratesfeedpirates)
Elizabeth City State University (#VikingsCare)
Fayetteville State University
High Point University (#HPUfeeds)
Piedmont Community College (#feedthepacers)
UNC Greensboro (#uncgway)
UNC Pembroke (#BraveNationFeeds)
About Food Lion
Food Lion, based in Salisbury, N.C., since 1957, has more than 1,100 stores in 10 Southeastern and Mid-Atlantic states and employs more than 82,000 associates. By leveraging its longstanding heritage of low prices and convenient locations, Food Lion is working to own the easiest full shop grocery experience in the Southeast, anchored by a strong commitment to affordability, freshness and the communities it serves. Through Food Lion Feeds, the company has donated more than 750 million meals to individuals and families since 2014 and has committed to donate 1.5 billion meals by 2025. Food Lion is a company of Ahold Delhaize USA, the U.S. division of Zaandam-based Ahold Delhaize. For more information, visit www.foodlion.com or job applicants may visit www.foodlion.com/careers.