Over the weekend of October 6-7, NC Campus Engagement hosted a Dialogue Facilitation Training for the second cohort of Student Dialogue Ambassadors. This training was an essential element of the NC Student Dialogue Ambassadors (SDA) Program, designed to empower student leaders to foster dialogue and civil discourse on their campuses. 
Leslie Garvin, Executive Director of NC Campus Engagement, facilitated the training. 
Held at Elon University, the two-day training brought together six dedicated student ambassadors alongside their campus mentors. Together, they learned and practiced how to facilitate four distinct dialogue methods: Living Room Conversations, Civil Dialogue, Braver Discussions, and Deliberative Dialogue. You can learn more about these methods here.
Ambassadors and mentors also participated in training that challenged them to explore how identity and cultural humility can impact dialogue. In the upcoming spring semester, these Ambassadors will use their newfound skills to bring meaningful dialogues to their campuses as facilitators.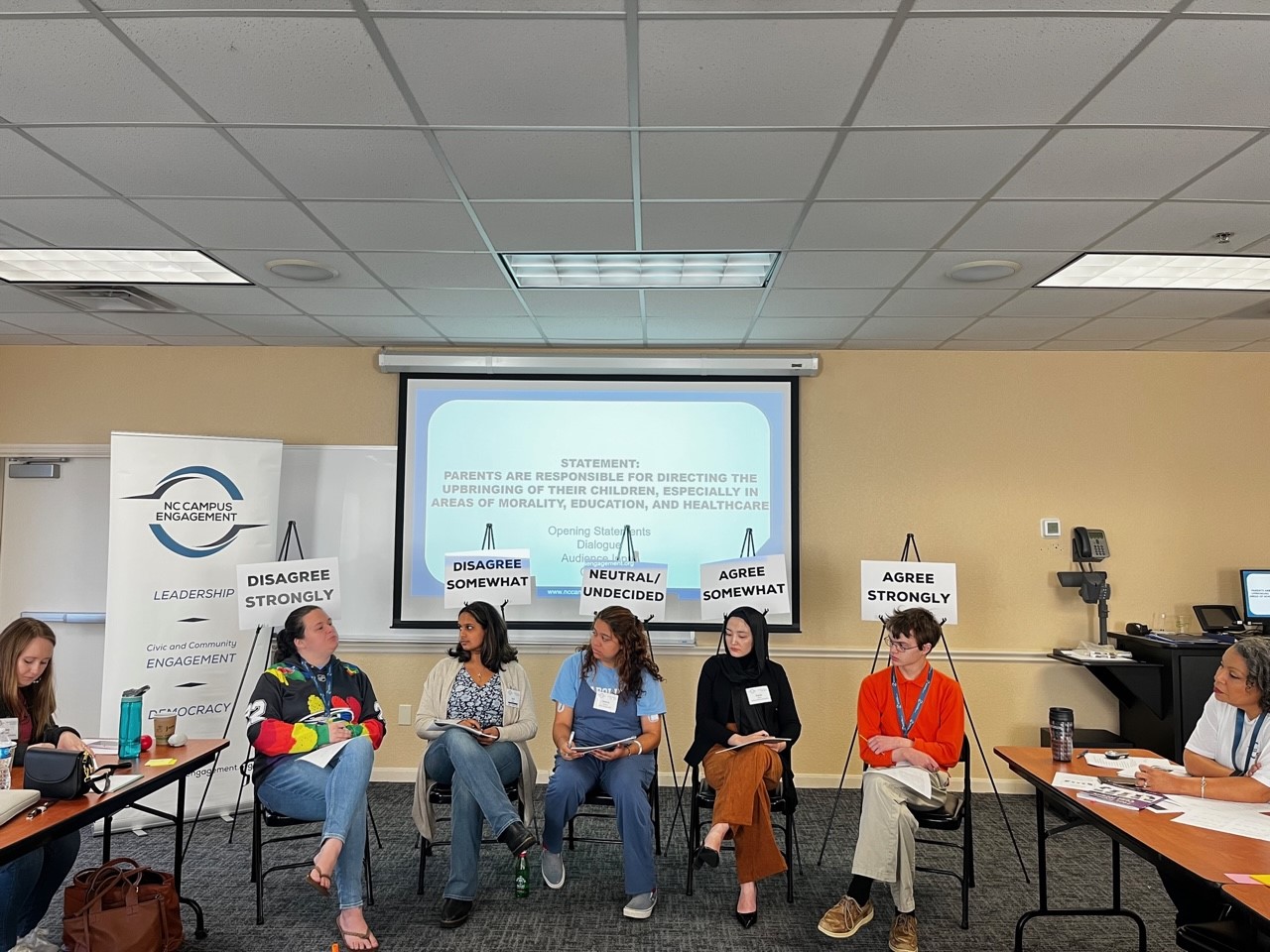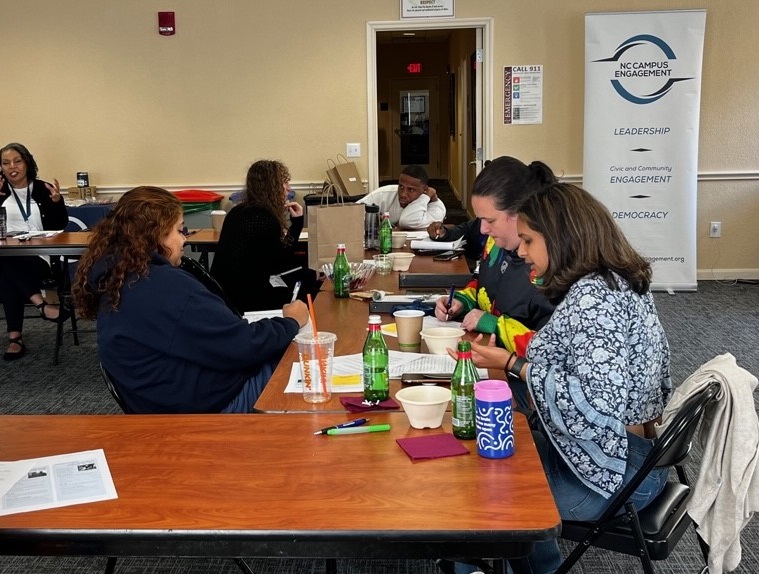 Launched in 2022, the NC Student Dialogue Ambassadors (SDA) Program seeks to mobilize a trained cohort of student leaders passionate about bridging divides through dialogue and civil discourse. Through the program, students build the skills of democracy by engaging in deliberation and dialogue on the critical issues facing our state, while empowering other students to engage in open exchange of ideas with people who think differently.
NCCE trains the Ambassadors in the fall semester in multiple dialogue methods. In the spring semester, each campus hosts four dialogues, plus a training for other students, all facilitated by the Ambassadors. Each campus receives an activity fund to support dialogue hosting and each Ambassador receives a stipend upon program completion.
Participating campuses select two students to serve as Student Dialogue Ambassadors, plus a faculty or staff mentor to provide support. This year, three North Carolina universities (Lenoir-Rhyne University, UNC Chapel Hill, and High Point University) were selected to host Student Dialogue Ambassadors. The 2023-2024 Student Dialogue Ambassadors are listed below:
High Point University
Avery Miles
Keonna Elliott
Allison Walker (mentor)
Lenoir-Rhyne University
Dan Paradis
Sahar Sana
Casey Enright (mentor)
UNC- Chapel Hill
Jaya Dayal
Valeria Orozco
Sarah Smith (mentor)
NC Campus Engagement Contacts
Leslie Garvin, Executive Director
Samantha Delap, Program Coordinator (sdelap@ncengage.org)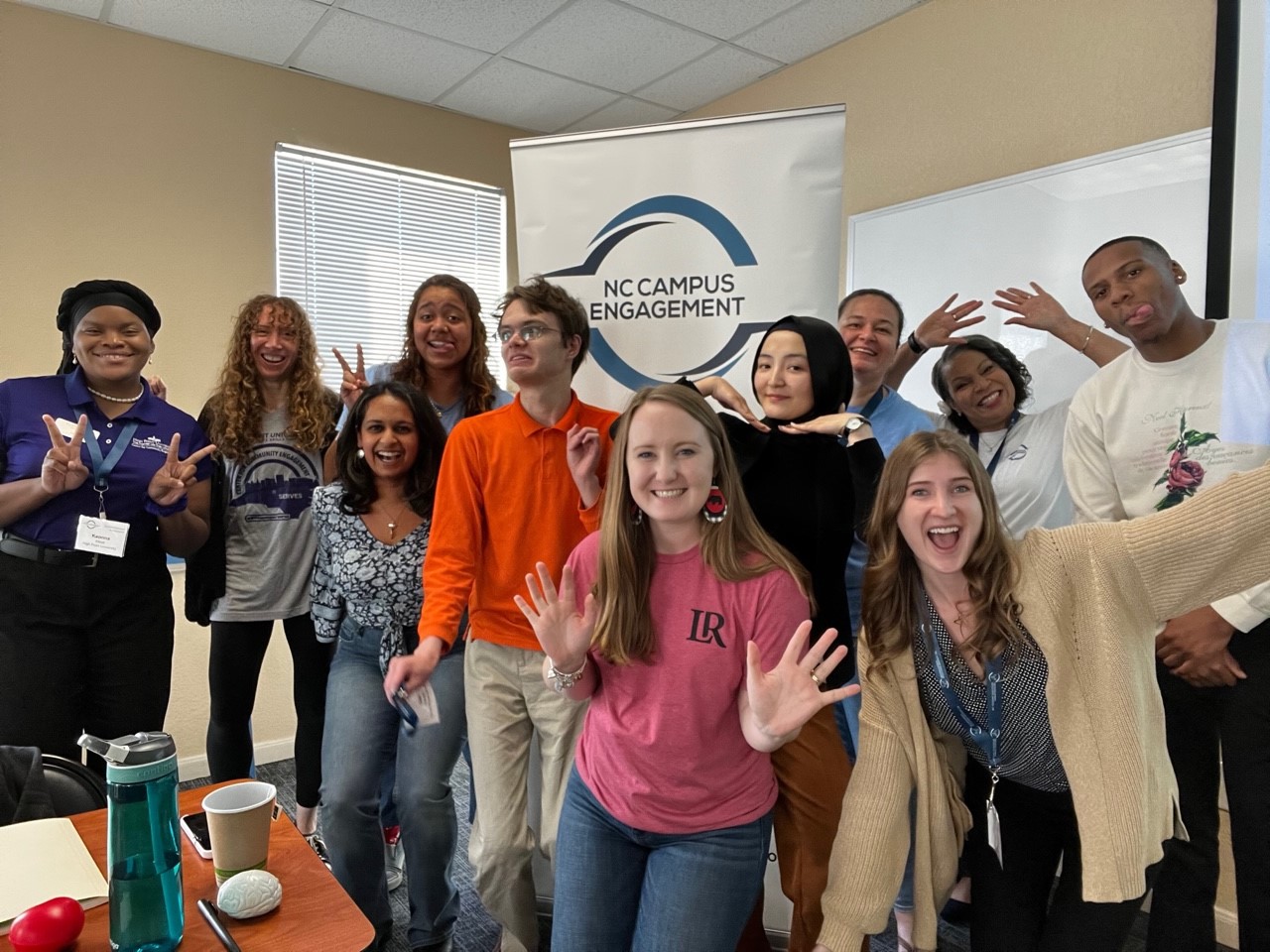 Pictured (left to right): Keonna Elliott, Allison Walker, Jaya Dayal, Valeria Orozco, Dan Paradis, Casey Enright, Sahar Sana, Sarah Smith, Samantha Delap, Leslie Garvin, Avery Miles