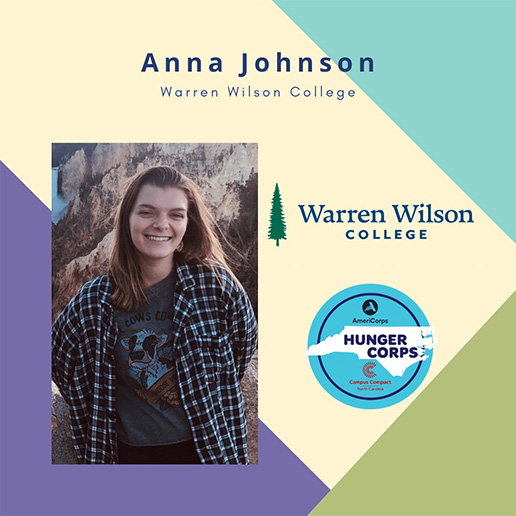 Today, we're sharing our next installment in the VISTA Spotlight series to spotlight our AmeriCorps VISTAs and our partner organizations who host our VISTA members during their year of service.  Our host sites are the backbone of our VISTA program. Host site supervisors commit to guiding and mentoring members through their service year and are an instrumental asset for our VISTA's professional development.
Our third spotlight is Anna Johnson, the NC Hunger Corps VISTA serving at Warren Wilson College (WWC) in the Community Engagement Office. Anna is an alumna of Warren Wilson, where she earned a Bachelor of Arts in Environmental Studies with a concentration in Policy and Justice and a minor in Peace and Justice Studies. During her time as a student at Warren Wilson, Anna worked with the Community Engagement Office on many projects, so it was a natural next step for her to step into the Hunger Corps VISTA role in the same office.
The mission of the WWC Community Engagement Office, within the college's Center for Experiential Learning, is to prepare students for effective community engagement. Community engagement and service are a part of the fabric of the college, having been designated a graduation requirement in the late 1960s. The professional staff in the office work with community partners, faculty, staff, and students to develop curricular and co-curricular opportunities that are reciprocal with their partners and achieve the learning outcomes of the University's Community Engagement Commitment, a graduation requirement for all Warren Wilson Students. The office is also home to a robust and long-standing Bonner Leaders program, a team of 24 dynamic student leaders who initiate a range of programming for the campus community and community partners.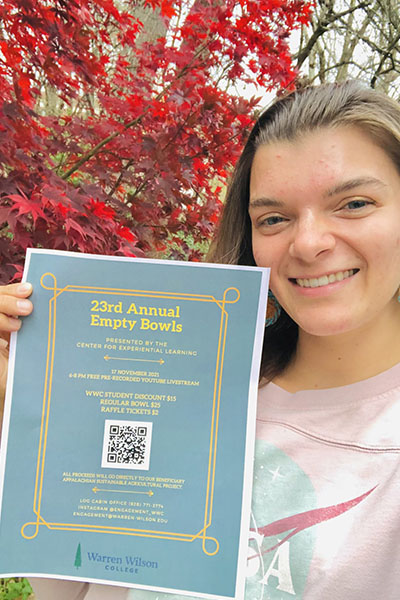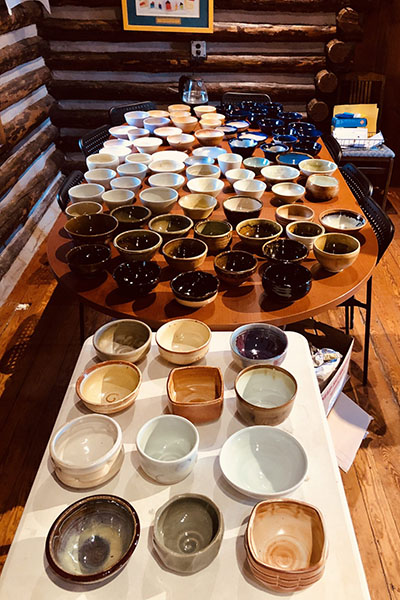 Madeline Wadley, the Associate Director of Community Engagement, is the host site supervisor who works with, guides, and mentors Anna throughout her service year. She began her role as Associate Director in August 2021, and before that, she earned her Master of Education in Community Engagement from Merrimack College. Madeline is no stranger to AmeriCorps VISTA, having served as a VISTA herself with LEAF Global Arts from 2012-2013. She draws on her experience as a VISTA alumna to be an incredible supervisor to Anna, and we appreciate her so much!
As a Hunger Corps VISTA, Anna works with students in the Bonner program to partner with a range of food access agencies in the greater Asheville community. She facilitates service opportunities for the Bonner Leaders and strengthens food security initiatives on campus, including the campus pantry. One of her most successful projects was planning and executing WWC's annual Empty Bowls Event. It took place during National Hunger and Homelessness Awareness Week and raised money for ASAP (Appalachian Sustainable Agriculture project) Connections through sales of ceramic bowls, handmade by WWC's ceramic students. This year's event was a huge success, although it had to be adapted and conducted in a virtual setting. The event raised over $2000 for ASAP Connections, and they nearly sold out of all of the ceramics!
Anna will continue to serve with the "Pantry Team" of Bonner Leaders to build the capacity of WWC's on campus food pantry, which has seen increased interest in use by students in the past semester. After her service year, Anna is hoping to continue participating in nonprofit work around environmental justice and social equity.