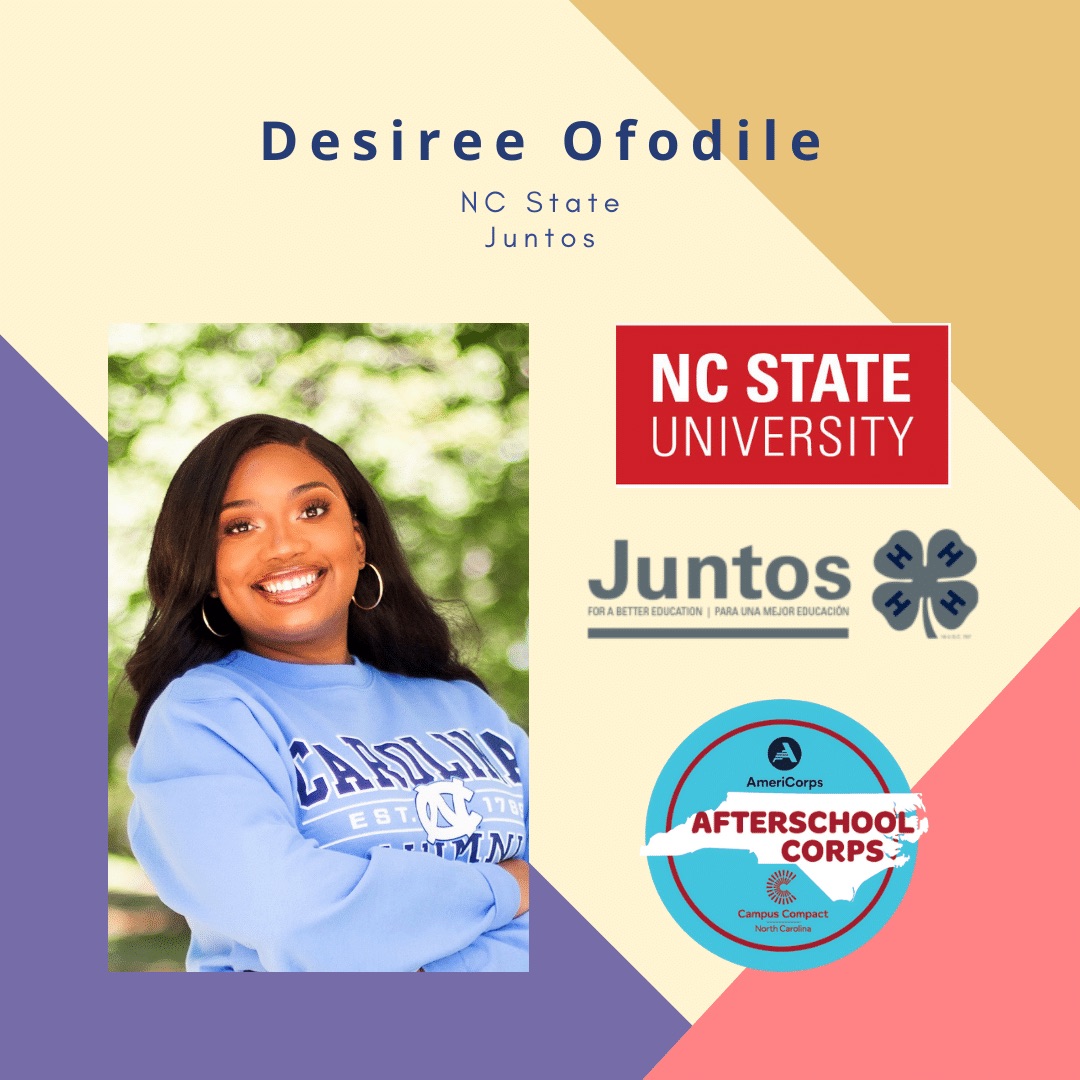 Welcome back to our VISTA Spotlight series in which we're spotlighting our AmeriCorps VISTAs and our partner organizations who host our VISTAs during their year of service.  Our host sites are the backbone of our VISTA program. Host site supervisors commit to guiding and mentoring members through their service year and are an instrumental asset for our VISTA's professional development.
Today's spotlight is on Desiree Ofodile, an NC Afterschool Corps VISTA serving at NC State University with the Juntos Program. She graduated from UNC-Chapel Hill with Bachelor of Arts degrees in Biology and minors in Medical Anthropology and Medicine, Literature and Culture. She has been passionate about community service throughout her life and continues to serve because she loves working toward enriching the community and creating a better environment for others.
Juntos (pronounced "Who-n-toes") means "together" in Spanish and works to unite community partners to provide Latinx 8-12 grade students and their parents with knowledge, skills, and resources to prevent youth from dropping out and to encourage families to work together to gain access to college. Research shows that Latino youth are at greatest risk for dropping out of school between the 9th and 10th grades, and the Juntos program reduces this risk by bringing together cohorts of 8th grade youth to support each other for three to five years as they enter high school and prepare together for higher education.
The multifaceted partnerships between the Cooperative Exention's 4-H youth development program and their family and consumer sciences outreach program, school and college administrators and staff, and other community volunteers are what make the Juntos program sustainable and successful in many communities across the country. Juntos NC currently has programs in eight different counties across that state. Coordinators are hired to work with the school system to advocate and encourage program participants to achieve their academic goals for high school and beyond. These coordinators provide one-on-one mentorship to the students in the program. Coordinators report to the Assistant Director of the Juntos Program in North Carolina, and the Juntos NC office resides on the campus of North Carolina State University.
Bianca Wall, the Assistant Director Juntos Program, is serving as our VISTA's Host Site Supervisor. She grew up in a bilingual household and studied anthropology and Spanish at UNC Wilmington. After graduation, she worked with the Cooperative Extension with the Juntos program in Wayne County. She has been working with children and youth for the last eight years as a teacher, mentor, and coordinator, and we are so thankful that she is guiding and supporting Desiree throughout her service year.
Desiree has worked on building the Juntos website and managing their social media accounts. She has also recruited new volunteers and been a part of registering nearly 300 students for the Juntos program! Students participate in bi-weekly club meetings where they are given information about applying for FAFSA, preparing for interviews, writing resumes, and more. They even have representatives from different colleges come to club meetings to talk about their campuses. Students also participate in community service activities during club meetings, including working in the garden or participating in and food drives. Not only does the Juntos program benefit Latinx students, but also their families. Juntos hosts family night events. Desiree has been a part of planning their spring workshop series for high schoolers. Workshops will cover topics such as how to apply to college, applying for FASFA, covering tuition, and how to choose a college and major. Family night events also provide students and their parents an opportunity to connect with coordinators and community partners.
Desiree played a huge role in planning a Partner's Luncheon where Juntos NC was able to celebrate their statewide partnerships and program achievements. She is also working on planning their Summer Academy, which is a week-long event where students spend time at NC State's campus. They will stay in dorms and attend career and skills workshops based on their interests. Juntos NC sent a survey to students to see which careers they're interested in and what skills they're interested in developing. They'll also have a chance to do some fun activities like exploring the many museums in Raleigh, visiting the lake to kayak and enjoy nature, and more. Desiree is enjoying the planning process of the Summer Academy and can't wait to see it to fruition.
After service, Desiree will attend East Carolina University and study to become a Physician Assistant. We are so proud of Desiree and can't wait to see how far she will go!
To learn more about the Juntos Program, visit juntos.dasa.ncsu.edu and follow their Instagram account @juntosnc.