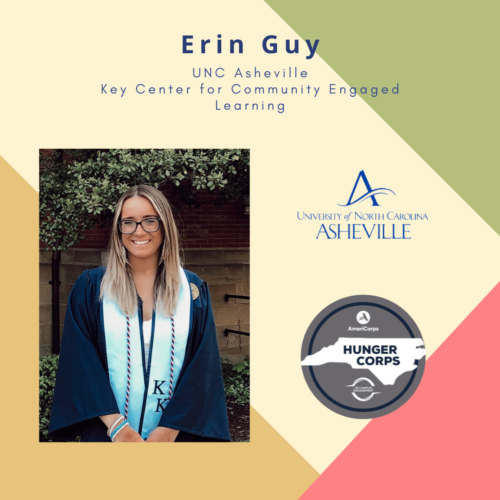 Hello everyone, and welcome back to our VISTA Spotlight Series! Each month we introduce you all to one of our AmeriCorps VISTA Members and the amazing work they do. Our members and their host sites are the heart and soul of our program, and we want to show our appreciation for their efforts.
This month we're spotlighting one of our VISTAs who recently completed her service year: Erin Guy. Erin was our 2022/2023 NC Hunger Corps VISTA who served at the University of North Carolina Asheville (UNCA).
Erin came to us from West Virginia with a passion for service and leadership. She earned her Bachelor of Arts degree in International Relations from West Virginia University where she learned about the difference between perceived need vs. actual need. She is a firm believer that any form of service should be based on what a community really needs rather than what a volunteer thinks they need.
The University of North Carolina Asheville (UNCA) is a public university located in Asheville, NC that offers a wide range of degree programs. Erin worked with The Key Center for Community Engaged Learning at the university with her site supervisor Kate Johnson (Director of the Key Center). The center's goal is to help students grow and develop as future leaders, scholars, and civically engaged citizens through service learning and educational programs.
So, what was Erin's role at UNCA? Throughout her service year Erin wore many hats. She built relationships with new community partners, recruited volunteers to help with community gardens, coordinated educational events, and learned how to write grants. Erin shared with us that her biggest accomplishments included the many relationships she built during her VISTA service, noting the relationship she helped bridge between the Key Center and Asheville Poverty Initiative (API) as particularly impactful. Through this relationship, Erin connected the Key Center with a new community resource and API with a new source of volunteers and support including securing two grants totaling over $30,000.
Erin coordinated a number of events during her service and often collaborated with others to create unique programming. One example of this was UNCA's Food & Housing Awareness Week. Erin worked with multiple campus organizations and community partners to plan a full week of events centered around food and housing security. Events included a discussion panel with local nonprofit leaders, a free food market, a documentary screening, a foraging walk, and a volunteer opportunity with a local nonprofit.

We asked Erin what the highlight of her VISTA service was, and she said she enjoyed getting to know and work with community partners. She often volunteered with them to get a better understanding of who they are and who they serve, and she loved collaborating with them on events. She also said that she felt like she grew as both a professional and as a person by working with different communities and learning about their needs.
You're all probably wondering what Erin has planned for after service. We're excited to share that she will be taking her passion for service global: she's going into the Peace Corps! We're sad to see her go, but we're so proud of all the amazing work she has done this past year. We know she'll be great in her new role as a Peace Corps Volunteer in Georgia serving as a teacher!
To learn more about Erin's work as an NC Hunger Corps VISTA and the Key Center at UNCA, check out the following links:
Facebook: Key Center at UNC Asheville
Instagram: @unca_keycenter
This blog has been written by Sebastian Pruett with the support of information from Erin Guy.