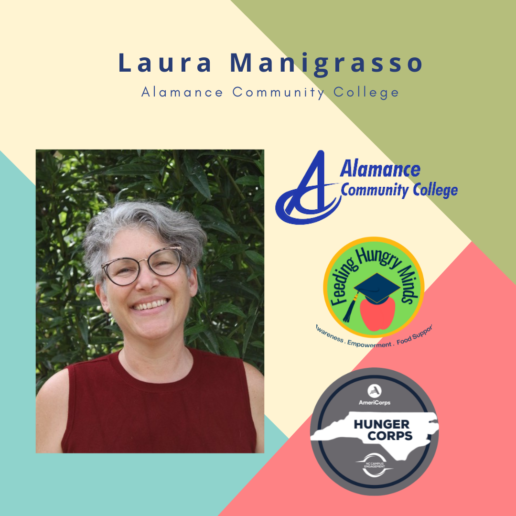 Hello everyone, and welcome back to our VISTA Spotlight Series! Each month we introduce you all to one of our AmeriCorps VISTA Members and the amazing work they do. Our members and their host sites are the corps (see what we did there) of our VISTA program, and we want to show our appreciation for their efforts.
This month's spotlight is on Laura Manigrasso. Laura is one of our NC Hunger Corps VISTAs serving at Alamance Community College (ACC). With a Bachelor of Science in Special Education from Syracuse University and a wealth of experience teaching/leading others, she has been a wonderful addition to our VISTA cohort. She is interested in food insecurity and collaborating with others to build sustainable solutions that can help those facing food insecurity.
Alamance Community College (ACC) offers a variety of degree, certificate, technical, and vocational programs. It's a small community college with campuses in Graham and Burlington, NC. Laura works with many of their departments and community partners, including the horticulture department and the Alamance County branch of NC Cooperative Extension. Her primary site supervisor is Justin Snyder who is the Dean of Industrial Technologies.
As ACC's first-ever VISTA, Laura's role is to build foundations for hunger-related programming. Her work ranges from recruiting volunteers to building relationships and collaborating with community partners. One of her biggest collaborations during her service has been with Alamance County Cooperative Extension. With their support, Laura has been able to set up donation stations across ACC's campuses where people can donate food or money that students facing food insecurity can access. She's also worked with them to develop educational programs centered around nutrition including a monthly cooking demonstration. Below we've featured some of the marketing materials she has created.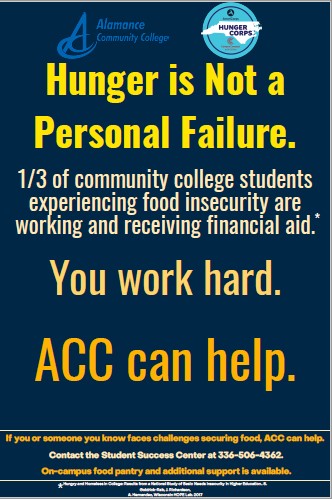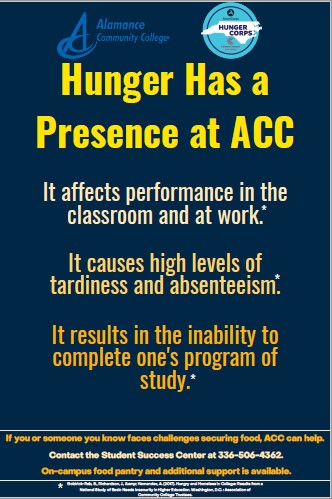 A central part of Laura's service (as with many VISTAs) is to build sustainability into the programs. Her biggest success in this area has been with ACC's community garden. Located at their main campus in Graham, the garden is set up on a pick-your-own basis. Students can pick whatever produce they need, and they also handle any garden maintenance.
When asked what she was most proud of during her time as a VISTA, Laura mentioned that her biggest accomplishment was implementing a food insecurity survey. This survey was created to give ACC a baseline understanding of some of the food-related issues that their students were facing. Laura and her team received 270 responses, which they used to develop more accurate programing. She is also proud of the brand name she created to give her work a sense of organization and connect all of it together: Feeding Hungry Minds.
So what are Laura's plans for after service? We are so glad you asked. She has decided to re-enroll for another year of service at ACC! She's passionate about food insecurity and wants to continue working in the field. She's especially interested in using her public relations and marketing skills to increase awareness of food insecurity initiatives.
To learn more about Laura's work as an NC Hunger Corps VISTA, check out this video from Alamance County Cooperative Extension's YouTube channel: Alamance County Donation Station 2022 – Alamance Community College
This blog has been written by Sebastian Pruett with the support of information from Laura Manigrasso.