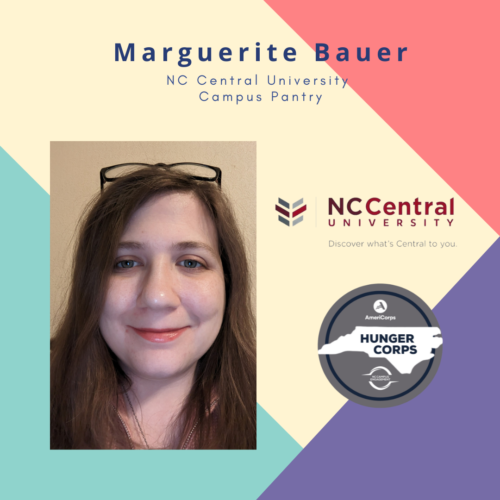 Hello everyone, and welcome back to our VISTA Spotlight Series! Each month we spotlight one of our AmeriCorps VISTA Members and the amazing work they do. Our members and their host sites are the heart and soul of our program, and we want to show our appreciation for their efforts.
This month's spotlight is on Marguerite Bauer, who is our NC Hunger Corps VISTA serving at North Carolina Central University. Marguerite is a graduate of Georgia State University where she earned an Associate of Science from Georgia State University. She's also had EMT training from the Grady EMS Academy. Before becoming a VISTA member, Marguerite served with the Montana Conservation Corps (an AmeriCorps program); first as a field crew member and then as a field crew leader.
So, what motivated her to join our VISTA program? She said a combination of her own personal experiences with food insecurity and a desire to help others facing similar challenges inspired her to apply to the NC Hunger Corps. She says one of the most rewarding parts of her work is seeing how happy people are to receive support.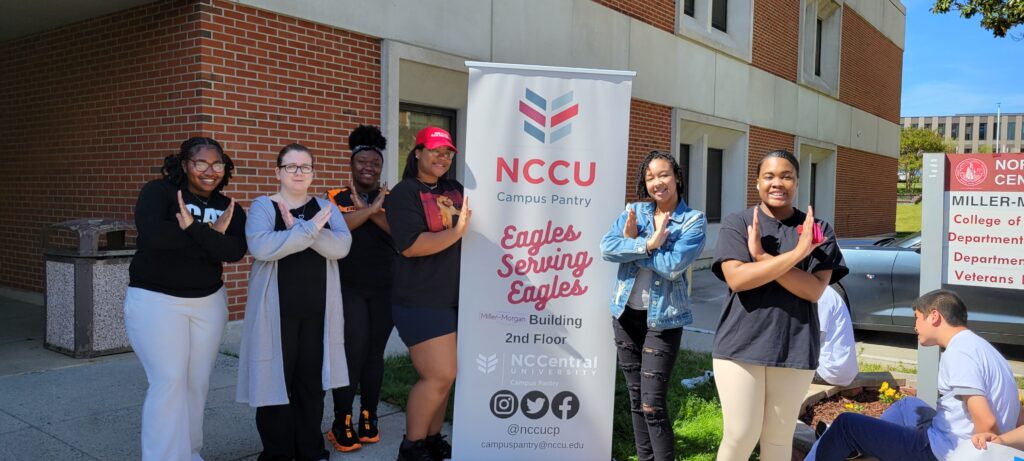 NC Central University (NCCU) is a public historically black university located in Durham, NC. Marguerite works with their campus pantry, located in the Miller-Morgan Health Sciences Building, along with her supervisor Laura Armstrong, Clinical Lecturer and BSW Program Director, Social Work. The pantry provides food, hygiene supplies, and toiletries for students, faculty, and staff.
As the NCCU Campus Pantry VISTA Programming and Development, Marguerite's primary role is marketing and outreach. She creates monthly newsletters about the pantry and its activities and helps coordinate volunteers for events. She even prepared new marketing materials to advertise the pantry after it moved to a new location on campus. One event Marguerite coordinated volunteers for was the Durham Crop Hunger Walk Global Village. The Global Village was a series of activities leading up to the annual Durham Crop Hunger Walk that NCCU participated in. She helped people sign up, sent out event instructions, and acted as a point of contact for volunteers.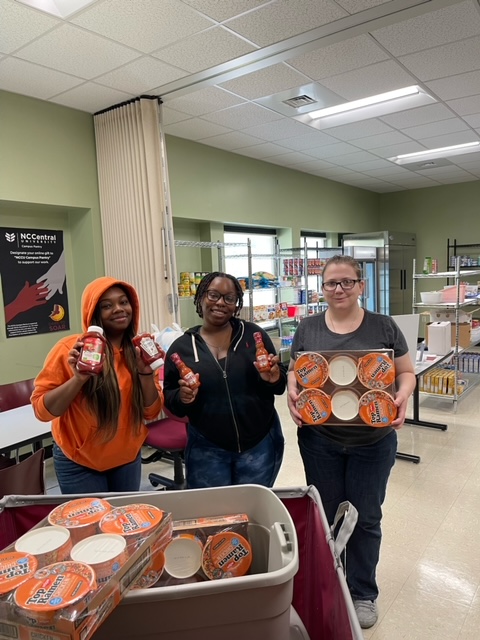 We asked Marguerite what the highlight of her service has been so far. She said working with the Global Village was an incredible experience. She said she had the opportunity to use her skills to support the activities and volunteers, and contribute to the success of the event. She even received praise for her help from the event organizer. We love to see our VISTAs succeed!
Now for the big question: what are Marguerite's plans after completing her year of service? She is currently debating whether to do another year of service with AmeriCorps, or go back to EMT school. In the many months she's spent there, Marguerite says she has really come to like Durham, and wants to stay in North Carolina. Whichever path she decides to take, we know Marguerite will be successful!
To learn more about Marguerite's work as an NC Hunger Corps VISTA and the NC Central University Campus Pantry, check out the following links:
NC Central University Campus Pantry Website
Facebook: NCCU Campus Pantry
Instagram: @nccucp
Twitter: @NCCUCP
This blog has been written by Sebastian Pruett with the support of information from Marguerite Bauer.