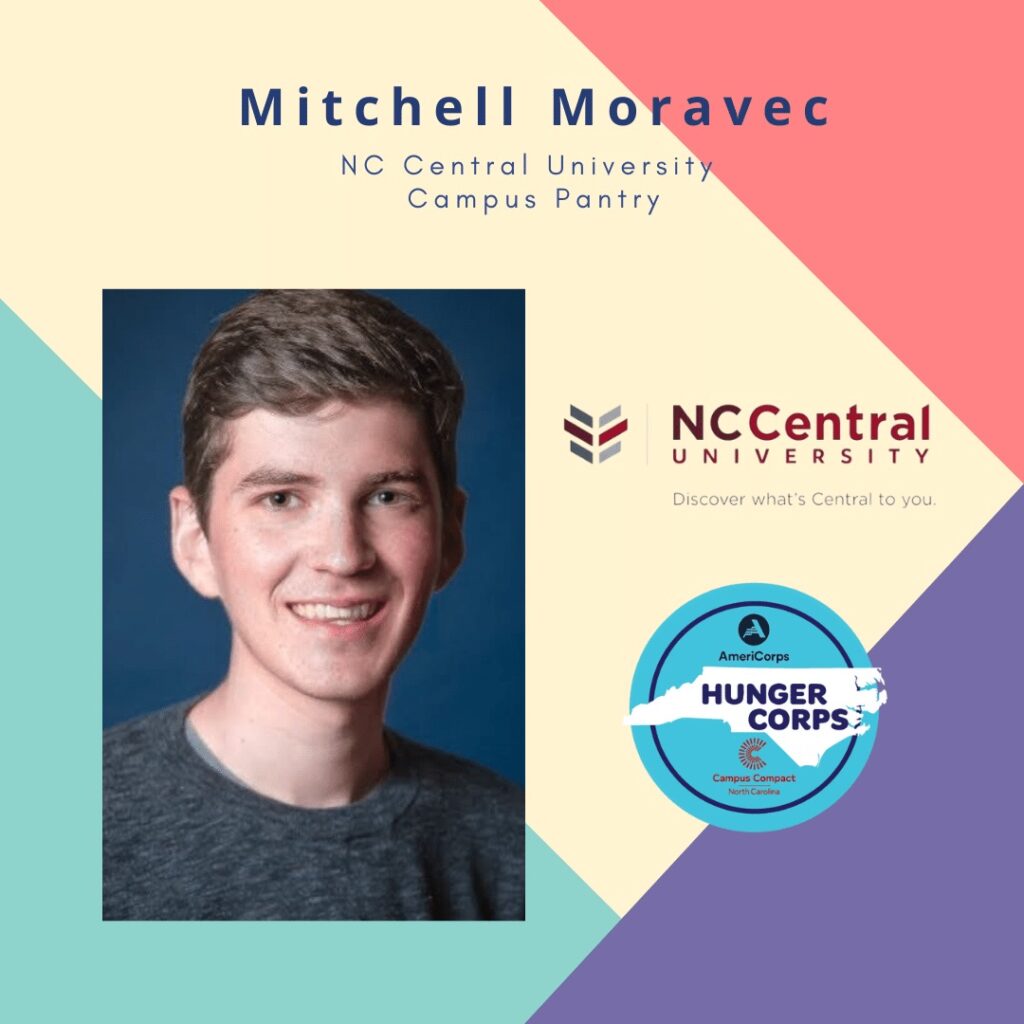 Welcome back to our VISTA Spotlight series in which we're spotlighting our AmeriCorps VISTAs and our member organizations who host our VISTAs during their year of service.  Our host sites are the backbone of our VISTA program. Host site supervisors commit to guiding and mentoring members through their service year and are an instrumental asset for our VISTA's professional development.
Today's spotlight is on Mitchell Moravec, the NC Hunger Corps AmeriCorps VISTA serving at North Carolina Central University (NCCU) in their Campus Pantry. Mitchell is a graduate of NC State University, having received Bachelor's degrees in Psychology and Materials Science Engineering, as well as a Master's degree of Public Administration. He is interested in nonprofit management and determined that the AmeriCorps VISTA experience would benefit his future of public service.
The NCCU Campus Pantry was established in 2014, and Mitchell is the first AmeriCorps VISTA to serve there. The purpose of the Campus Pantry is to alleviate food insecurity and lack of basic resources needed to engage in the learning enterprise. It is a free resource for the NCCU community that provides nutritional support for food insecure individuals. As an HBCU (Historically Black College or University), NCCU is committed to providing educational access to underserved populations, and the University maintains this legacy through providing services like the Campus Pantry.
Ms. Laura Armstrong, MSW, is our VISTA's host site supervisor and the Bachelor of Social Work Program Director at NCCU. She served with AmeriCorps VISTA in the 90s and has been an ambassador for the program ever since. She serves as a Field Instructor to Social Work interns who complete their internships at the Campus Pantry and has served  an integral role in the success and maintenance of the Pantry. Her experience as a VISTA and as a supervisor to social work interns in the pantry has been advantageous for her supervision of Mitchell, and we cannot thank her enough for her leadership and guidance.
As the inaugural VISTA of the NCCU Campus Pantry, Mitchell is laying the foundation for the capacity of the pantry to grow and expand. The Pantry is currently managed and operated by student interns, work-study students, and student volunteers. NCCU students are required to complete 120 hours of community service to graduate, and Mitchell was able to successfully register the Campus Pantry as a partner agency to provide volunteer hours to students. He has also worked to build needed volunteer orientation and training materials to onboard volunteers and create a self-sustaining operation.
Mitchell has raised awareness and use of the Pantry on campus in many ways, from partnering with the University Counseling Center to support student group meetings and snack distributions, and also by forming a partnership with campus Hospitality Services to have tabling events with nutritional information in the dining halls. He has increased the financial capacity by engaging alumni and community organizations like the Inter-Faith Food Shuttle for donations, and fundraising for the pantry. He was awarded a grant of $11,000, and over the past 9 months, has been a part of raising nearly $26,000 for the pantry and $50,000 in long term pledge agreements.
Something that Mitchell is proud of is the way that he was able to increase the capacity and use of volunteers in the pantry. He made the sign-up process more accessible, spread awareness about opportunities to volunteer at the pantry, and trained volunteers to run the pantry with minimal supervision from the staff and student workers. His service has truly made a difference in the operation and reach of the NCCU Campus Pantry.
After service, Mitchell aspires to continue serving and working full-time in the nonprofit sector in the Triangle. He is interested in supporting valuable and intentional mission-driven organizations that serve to create positive and momentous systemic change.
To learn more about NCCU's Campus Pantry, visit their website NCCUCampusPantry.com and follow their Instagram or Twitter (@NCCUCP).