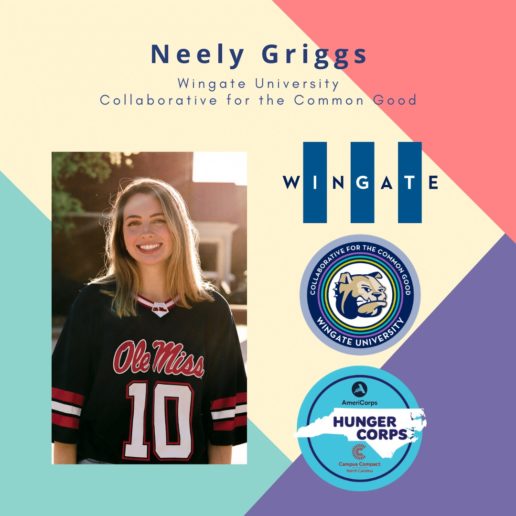 Welcome back to our VISTA Spotlight series in which we're spotlighting our AmeriCorps VISTAs and our member organizations who host our VISTAs during their year of service.  Our host sites are the backbone of our VISTA program. Host site supervisors commit to guiding and mentoring members through their service year and are an instrumental asset for our VISTA's professional development.
Today's spotlight is on Neely Griggs, an NC Hunger Corps VISTA serving at Wingate University in the Collaborative for the Common Good (CCG). She graduated from the University of Mississippi with Bachelor of Arts degrees in Public Policy and German, and a Bachelor of Business Administration. Before her AmeriCorps service, Neely worked on a farm where she educated the community about local food systems. She knew that she wanted to continue working in and around food, and the NC Hunger Corps position was the perfect way for her to do that!
The Collaborative for the Common Good at Wingate University is a project-based approach to address economic, social and ecological issues in eastern Union County. Their goal is to transform the local region by working with partners on and off campus, aligning resources, talents and expertise with community needs, while providing opportunities to advance various academic pursuits. The CCG oversees the Wingate Community Garden, is represented in the Food Council of Union County, and is working toward bringing a Farmers Market to Wingate's Campus!
Dr. Catherine Wright is Neely's host site supervisor and the Executive Director of the CCG. Dr. Wright is a faculty member and department chair of the Religion Department at Wingate University, and she draws on her experience with ethics and eco-theology to build and maintain unique partnerships throughout Union County.
Through the CCG, Neely works with many partners in Union County, including the Cooperative Extension, Heart for Monroe (a local nonprofit organization), and Wingate Baptist Daycare. Neely has also formed many partnerships on-campus, most notably, with the Department of Public Health. In early March, she coordinated an event where public health students planted vegetables in the garden that they will tend to as a service-learning component of their studies.
Neely has built capacity in a multitude of projects during her service year. She has collaborated with the Food Council of Union County to build its funding capacity, website design, marketing efforts, and by forming new sub-committees. She is also coordinating a "Know Your Farmer, Know Your Food" campaign for the council with a group of service-learning students from Wingate. In the Wingate Community Garden, she has built capacity by working with the garden manager to host events such as the Fall Festival, which was a 3-day educational and community-building event that drew more than 300 community members to the on-campus garden! She is currently working with the Physical Therapy Department to design wheelchair-accessible beds, which will increase accessibility in the garden. On top of that, she also won a grant from the American Heart Association to bring a Farmer's Market to campus! We are so proud of Neely's accomplishments so far in her service year!
Neely is pursuing graduate school to earn a Master of Public Administration. She has been accepted to several prestigious programs and is still deciding which will be the best fit for her. We look forward to watching her continue to shine and grow!
To learn more about Neely's service and stay up to date with the Collaborative for the Common Good, follow their Instagram account @CCGWingate.