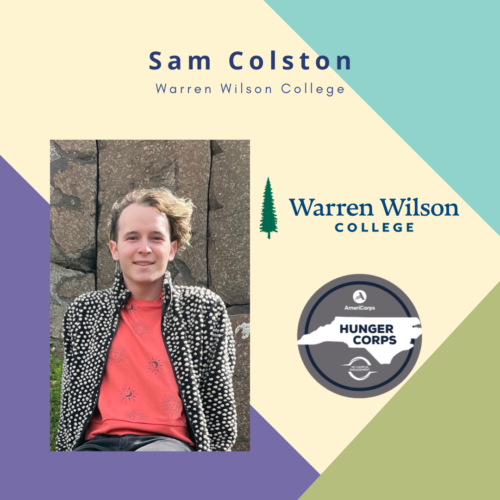 Hello everyone, and welcome back to our VISTA Spotlight Series! Each month we spotlight one of our AmeriCorps VISTA Members and the amazing work they do. Our members and their host sites are the heart and soul of our program, and we want to show our appreciation for their efforts.
This month's spotlight is on Sam Colston. Sam is our NC Hunger Corps VISTA serving at Warren Wilson College (WWC). Before becoming a VISTA, Sam was a student at WWC. They graduated in spring of 2022 with a Bachelor of Arts in Environmental Studies and wanted to continue working in the area. During their time at WWC, Sam worked with a local food-security non-profit as a Latinx Engagement Intern.
WWC is a liberal arts work college located just beyond the city limits of Asheville, NC in Swannanoa, NC. The college is committed to community engagement and partners with local organizations to provide service opportunities to students. Sam works with WWC's Community Engagement Office to increase student engagement with food-related initiatives in the local community. Sam often coordinates events and projects with their supervisors Anna Welton (Dean of Community and Global Engagement), Madeline Wadley (Associate Dean of Community Engagement), and Diamond Slone-Couch (Associate Dean of Community Engagement, Bonner Crew Supervisor).
As a Hunger Corps VISTA, Sam primarily works with food-related initiatives. Some of their efforts include increasing food access on campus, educating students on food insecurity and poverty, and connecting students with opportunities to volunteer with food related projects. Sam works with WWC's food pantry Box of Baguettes to recruit volunteers and develop the pantry's capabilities. One of their biggest contributions has been implementing changes to both the pantry and the Community Engagement Office's work models and operations. Through this work, Sam has helped make changes to work collaboratively, collect data, reduce waste, and build the community through food justice programming.
When asked what the highlight of their work has been so far, Sam said that they are particularly proud of the Food Rescue Program. Starting last fall, Sam was able to recruit enough volunteers to cook and serve meals made with soon-to-expire food items from the campus pantry. Over the course of the semester, the program was able to rescue and repurpose more than 350 lbs. of food and provide delicious meals with recipes to the campus community.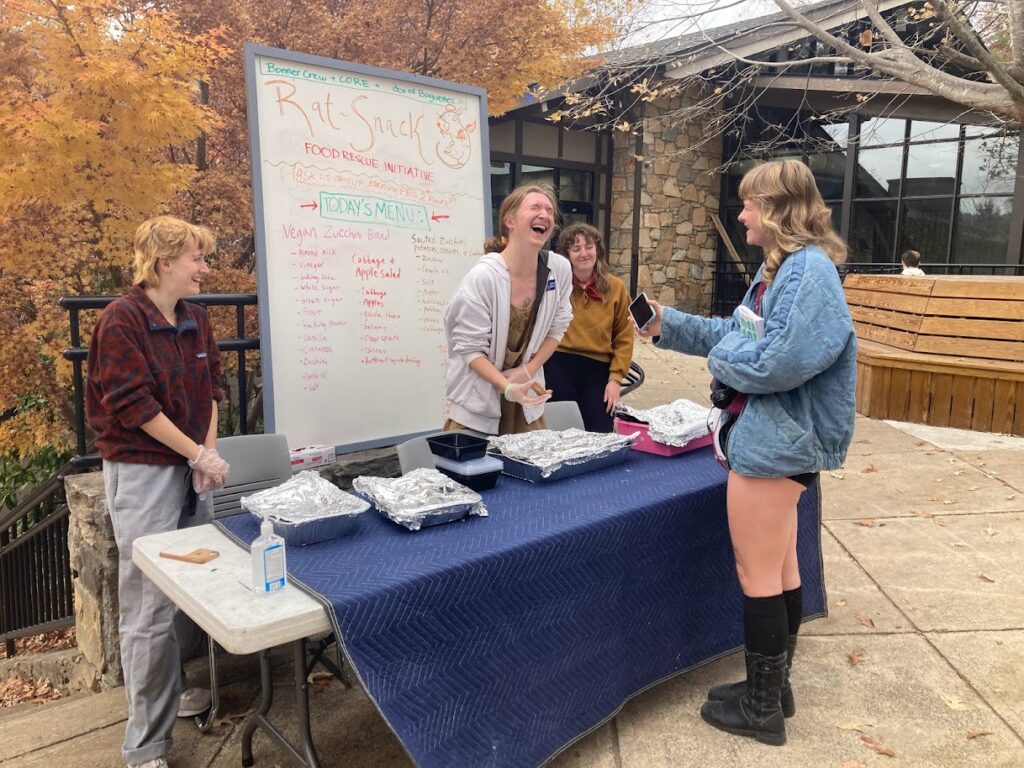 For after their VISTA service, Sam plans to join the Peace Corps and spend some time abroad. They are hoping to be placed somewhere with a different environment from what they are used to. No matter where Sam goes, we know they will be bringing valuable skills and experience to their community!
To learn more about Sam's work as an NC Hunger Corps VISTA and the Box of Baguettes Food Pantry, check out the following links:
The Echo Newspaper – Rat Snacks Food Rescue Turns Doomed Food Into Tasty Treats
WWC Box of Baguettes Food Pantry Web Page
Facebook: Box of Baguettes Food Pantry
Instagram: @box_of_baguettes
TikTok: @box_of_baguettes
This blog has been written by Sebastian Pruett with the support of information from Sam Colston.