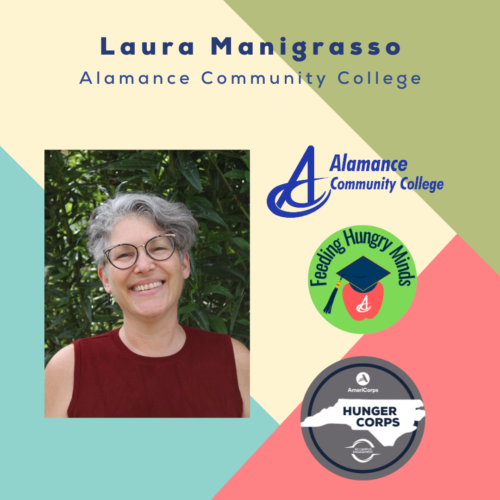 Hello everyone, and welcome back to our VISTA Spotlight Series! Each month we spotlight one of our AmeriCorps VISTA members and the amazing work they do. Our members and their host sites are the heart and soul of our program, and we want to show our appreciation for their efforts.
This month's spotlight is a little unique. What makes it unique? Well, this time I'll be talking about myself! You've read many of the blogs about our VISTA members, but what about the writer behind the blog? To start, my name is Sebastian Pruett and I am currently serving as the VISTA Leader for NC Campus Engagement's (NCCE) AmeriCorps VISTA program.
Before joining NCCE, I was a VISTA member serving with an afterschool-based program run by the 13th Street Educational Partnership at Albright College in Reading, PA. My role was to help build up their programming, and connect elementary and middle school students in the area with different educational opportunities.
By now, you might be asking why I joined VISTA and how I ended up serving with NCCE. After graduating in spring of 2021 from Penn State Scranton, a commonwealth campus of Penn State University, I spent the summer looking for job opportunities. I eventually came across the AmeriCorps VISTA program and was accepted as a VISTA member. During my time as a member, I was getting ready for a major life change, and was planning to move down to North Carolina. I knew I wanted to continue serving with VISTA but this time as a leader. I was referred to NCCE by my VISTA sponsor at the time and was accepted as their 2022-2023 VISTA Leader.
Many of you may already know who NC Campus Engagement (NCCE) is and what they do. For those who don't know, NCCE is a collaborative network of colleges and universities committed to educating students for civic and social responsibility, partnering with communities for positive change, and strengthening democracy. Their office is located on Elon University's campus in Elon, NC, and their partners are the many colleges and universities found across the state.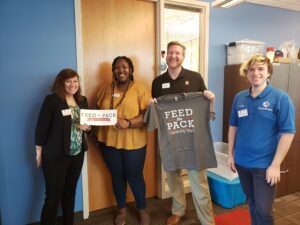 My role as VISTA Leader is to provide support and mentorship to the many members in NCCE's VISTA program. I work alongside our VISTA Program Manager, Christina Wittstein, to coordinate professional development opportunities, check-in with VISTA projects, and help guide members through their service years. Some of my work includes running monthly training sessions covering different topics related to VISTA service, such as basics of graphic design and how to identify resources for project development. I also write blogs for the VISTA Spotlight Series!
I have had many incredible experiences throughout my VISTA Leader service. I am particularly proud of the professional development sessions that I coordinated for our annual VISTA Retreat. Back in January, I ran two sessions: one on post-AmeriCorps career planning, and one on leadership and emotional intelligence. Since this was my first time leading a training workshop, there was a bit of a learning curve. Some of what I had initially planned for one of the workshops didn't quite pan out, but I managed to adapt and still make the experience meaningful for the VISTA members.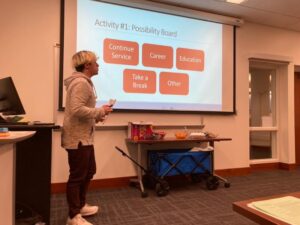 Another thing I am grateful for is having met so many amazing people. From the VISTA members in our program and their supervisors to my co-workers at the NCCE office, I have had opportunities to work with a wide variety of professionals with unique perspectives. I have also been introduced to the civic and community engagement work that colleges and universities do across North Carolina. It has inspired me to continue improving myself and contribute my own positive change wherever possible.
Now for the big question: what are my plans for the future? I am currently searching for employment in the nonprofit, higher education, and government fields. My plan is to take what I have learned during my VISTA service and continue to support communities and individuals however I can. My time in the AmeriCorps VISTA program has had an important impact on my goals and my passions. I hope to use my knowledge and skills to benefit others even if it's in a small way.
To learn more about NCCE's VISTA program, check out the AmeriCorps VISTA page on our website and follow us on social media!
NC Campus Engagement – AmeriCorps VISTA
Facebook: North Carolina Campus Engagement
Instagram: @nccampusengage
X (formerly Twitter): @nccampusengage
LinkedIn: North Carolina Campus Engagement
This blog has been written by Sebastian Pruett.