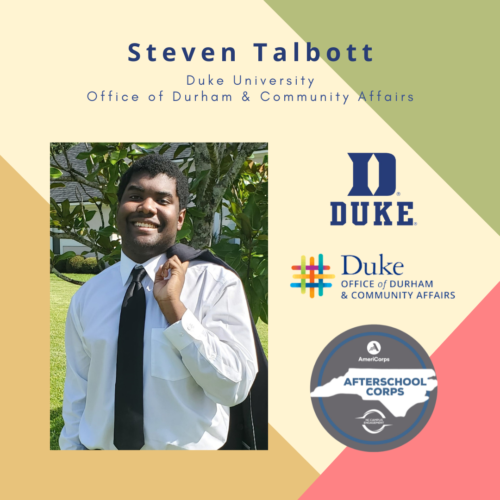 Hello everyone, and welcome back to our VISTA Spotlight Series! Each month we spotlight one of our AmeriCorps VISTA members and the amazing work they do. Our members and their host sites are the heart and soul of our program, and we want to show our appreciation for their efforts.
This month's spotlight is on Steven Talbott. Steven is our NC Afterschool Corps VISTA member serving at Duke University. He graduated from Florida Atlantic University with a Bachelor of Arts, majoring in Criminal Justice. Before joining our VISTA program, Steven was an intern at the Criminal Justice Resource Center in Durham where he was working towards becoming a counselor. Knowing that he had an interest in the field of education, his partner's mother recommended he look into AmeriCorps.
Duke University is a private, research university located in Durham, NC. The Duke Office of Durham & Community Affairs that Steven serves with focuses on building and maintaining partnerships with local communities and organizations to improve health and well-being. One of their programs, called America Reads America Counts or ARAC, provides tutors in reading and math for children in Durham. The program is run by the Senior Program Coordinator of Pre-K to 8th Grade Programs, Brianna Sanders, who is also Steven's supervisor.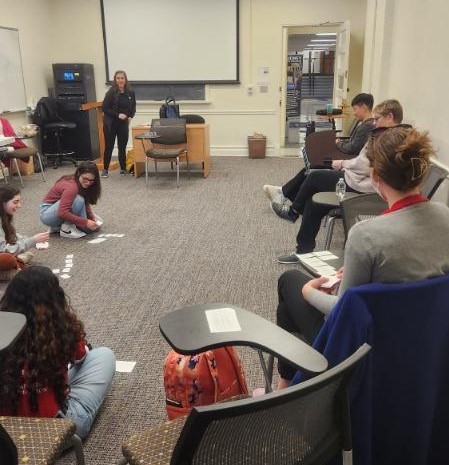 Steven's role is to oversee ARAC's tutors and coordinate communications between tutors, the office, and partner schools. Some of his responsibilities include checking on the tutors' attendance at sites, compiling data for reports, and assisting with tutors' trainings. Steven also helps coordinate events between his office and the local community. For MLK Day this year, he assisted in planning a large meal packaging service event, that brought together roughly 180 volunteers who packaged over 100,000 meals for people facing food insecurity.
When asked what he considered to be the highlight of his service so far, Steven said he was especially proud of a report he created. This report presents data on ARAC's fall semester and its activities, and is crucial for the program's grant funding. Steven noted this was his first time working on a report such as this one, but he was proud his contributions would help ARAC continue to provide services to Durham schools.
Now for the big question: what does Steven plan to do after AmeriCorps? Steven is planning to continue his journey into the education field. He has his sights set on going back to school for a master's degree in school counseling! His work as a VISTA member has earned him recognition from his site, his community, and us! We're confident that he'll be successful wherever he goes!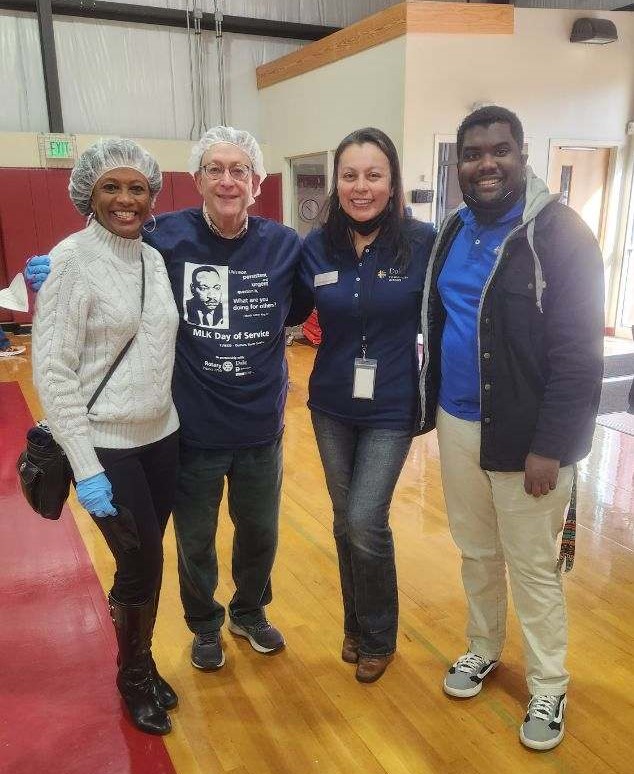 To learn more about Steven's work as an NC Afterschool Corps VISTA and the Duke Office of Durham & Community Affairs, check out the following links:
Duke Office of Durham & Community Affairs Website
Facebook: Duke Office of Durham and Community Affairs
Instagram: @dukeindurham
Twitter: @Duke_DCA
YouTube: DukeAndDurham (@DukeAndDurham)
This blog has been written by Sebastian Pruett with the support of information from Steven Talbott.