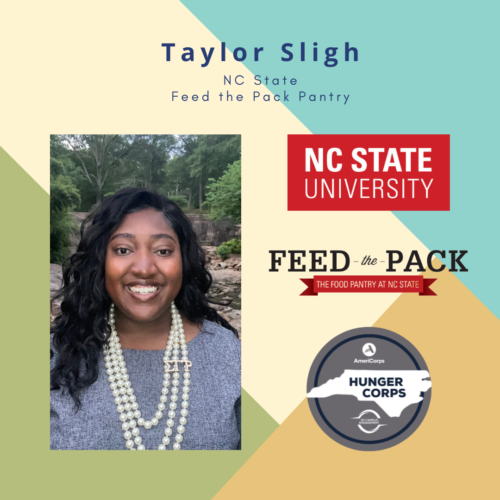 Hello everyone, and welcome back to our VISTA Spotlight Series! Each month we spotlight one of our AmeriCorps VISTA Members and the amazing work they do. Our members and their host sites are the heart and soul of our program, and we want to show our appreciation for their efforts.
This month's spotlight is on Taylor Sligh. Taylor is our NC Hunger Corps VISTA serving at NC State University (NCSU). Before becoming a VISTA, Taylor was a student at Wingate University where she earned her bachelor's degree in communication with a minor in Spanish . During her time as an undergrad, she volunteered with a local church's food distribution program as a translator for Spanish speaking families. She was also involved in community service initiatives through her sorority's local chapters, Sigma Gamma Rho Sorority, Inc.
It was through her volunteer experiences that Taylor realized she had a passion for public administration. In the spring of 2022, she met Neely Griggs, who was our NC Hunger Corps VISTA at Wingate University at the time. Taylor and Neely talked about the VISTA program, and she knew it would be a good fit for her. She decided to apply, and she eventually became the NC Hunger Corps VISTA for NCSU.
NC State University is a public university located in Raleigh, NC. Taylor works with their campus food pantry, Feed the Pack, along with her site supervisor Brian Mathis, Associate Director of Student Leadership and Engagement at NCSU. The goal of Feed the Pack is to meet the food needs of the campus with dignity and respect by operating a free, take-what-you-need style, pantry for students, staff, and faculty members who may face food insecurity. They offer a wide range of resources, including fresh produce, perishable and non-perishable foods, hygiene items, and pet food.
Taylor's role with the pantry focuses on building capacity through assisting in fundraising efforts and partnership development. Some of Taylor's fundraising work included helping organize two fundraising campaigns; a Crowdfunding campaign that raised $7,352 and the Pantry Bowl, a fundraising competition between NCSU and a rival university that raised $148,099.93 between the competing schools!
Another core aspect of Taylor's role has been to educate the campus community about issues surrounding food insecurity and how to advocate for, support, and share resources with those who don't have access to adequate resources. Some of the programs she has developed include "Feed the Pack Advocates", where patrons of the pantry share their own narratives to help break the stigma surrounding food insecurity, and a roundtable discussion on food justice and its intersection with racial equity. She has also presented information about Feed the Pack to several campus departments and organizations on how they can support the pantry.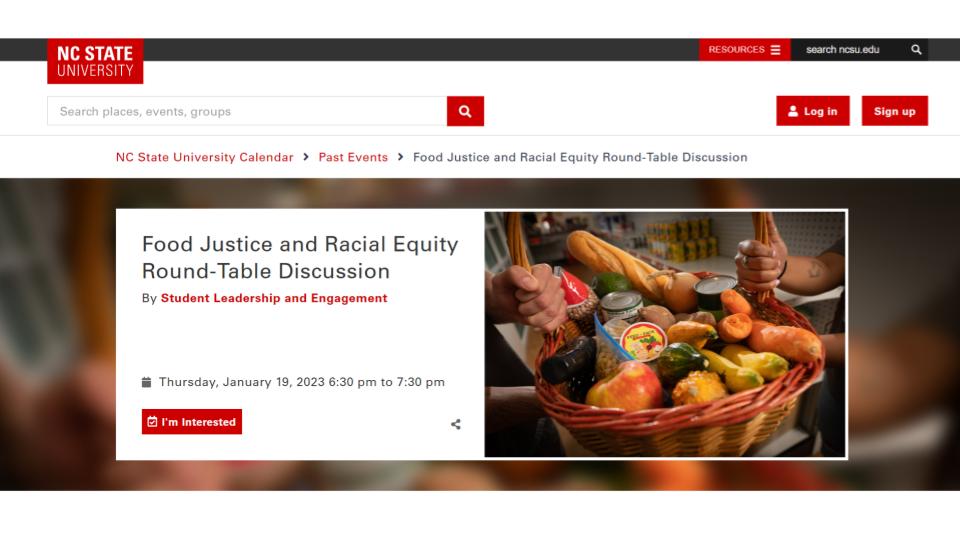 We asked Taylor what the highlight of her service has been, and she said the best part has been the people she has met and worked with. Whether it's her team members at Feed the Pack or her fellow VISTAs, the people she has met have inspired her to be a better leader and advocate. Taylor says her experiences with NCSU and the VISTA program have helped her grow in ways she never would have imagined.
So, what are Taylor's plans for after her service ends? She plans to pursue her master's degree in public administration. She's looking forward to furthering her education in nonprofit management and policy, and she wants to use what she's learned from the VISTA program and Feed the Pack for the betterment of her community in new ways. We're so proud of all the work Taylor has done, and we know that there are more great things in her future!
To learn more about Taylor's work as an NC Hunger Corps VISTA and the Feed the Pack pantry, check out the following links:
NC State University Academic and Student Affairs News – Ten Years of Feeding the Pack
Facebook: Feed the Pack: The Food Pantry at NC State
Instagram: @feedthepack
Twitter: @FeedthePackNCSU
YouTube: Feed the Pack (@feedthepack6840)
This blog has been written by Sebastian Pruett with the support of information from Taylor Sligh.