On November 18, 2022, NCCE hosted the 2022 "Engagement Matters" Student Awards Ceremony. Nineteen outstanding students, from within the NCCE member network of colleges and universities, were recognized for their civic and community engagement leadership. The award recipients shared powerful insights about what they have gained or learned by being civically engaged. Friends, loved ones, and campus constituents participated in the Ceremony from throughout the country to celebrate these inspiring students.
View the video of the ceremony.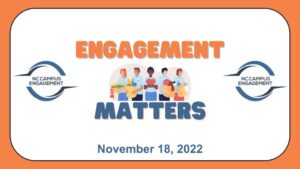 Barnhill Civic Trailblazer Award Winner
The John H. Barnhill Civic Trailblazer Award recognizes one undergraduate student in the state, in their final year, who has demonstrated innovation in civic engagement, worked to integrate their service into campus structures, inspired others to service, and made a meaningful impact on campus or in the community.

2022 Barnhill Civic Trailblazer
Kamren Lewis, UNC Pembroke
Kamren was recognized for his many civic engagement efforts as a student leader in the Office for Community and Civic Engagement. Most notably, he helped create the Brave Foundations Mentoring Program, an ongoing partnership between UNCP and the Lumberton and Pembroke Housing Authority. UNCP students mentor youth in two public housing locations weekly.   
Community Impact Student Award Recipients
Fifteen students were selected by their institution to receive at 2022 Community Impact Student Award (CISA). All award winners should clearly demonstrate:
Deep commitment to partnering with others to address community issues

Outstanding ability to lead and inspire fellow students to engage

Evidence of sustainable impact of their work
2022 CISA Recipients
Appalachian State University – Meredith Maiken
Duke University – Kiran Sundar
East Carolina University – Tete Narh-Mensah
Elon University – Nicole McGinty
Fayetteville State University – Iyana Beachem
High Point University – Glenda Emanuel
NC Central University – Breann Wyman
UNC Asheville  –  Mars  Zappia
UNC-Chapel Hill – Alvin Dinh
UNC Charlotte – David Rodriguez
UNC Greensboro – Simone Watkins
UNC Pembroke – Magally Ortiz-Rojas
UNC Wilmington – Deiona Stanley
Warren Wilson College –  Kenia Romero
Western Carolina University – Sarah Tisinger
Marshall Alternative Break Scholarship Recipients
The Marshall Alternative Break Scholarship supports the participation of college students in an alternative break program organized by an NCCE member school. The recipient must demonstrate capacity and desire to lead, facilitate, or organize a Break Trip. The following students were awarded a $250 scholarship.

This Scholarship was proposed and funded starting in 2015 by Aaron Marshall, a former Community Impact Student Award and Barnhill Civic Trailblazer Award winner. During his undergraduate career at Western Carolina University, Aaron was part of 9 alternative service trips as a participant and leader. He wanted to "pay it forward" to ensure that other students could experience transformative experience of an ASB.

2022 Marshall Scholarship Recipients
Appalachian State University – Lily Hernandez
Winter Break 2022 service trip to the Dominican Republic to work on clean water access by helping set up domestic collection systems and wells in local communities.
 UNC Pembroke – Cara Martin and Cassie Burnett
Spring Break 2023 service trip to Baltimore, MD to serve and learn more about indigenous culture.