Community Engagement
Administrators Conference (CEAC)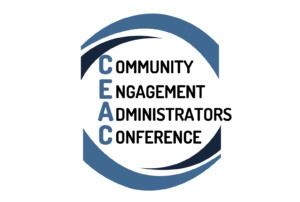 Launched in 2003 as the Community Service and Service-Learning Directors Conference, CEAC (pronounced c-ack) is designed for community engagement professionals – both faculty and staff – who facilitate civic and community engagement programs and initiatives. Renamed in 2008, this gathering allows participants to reflect on their role and work through presentations and workshops, facilitated discussions, and networking. CEAC is usually held in June at an NCCE member campus.  CEAC is only for representatives from NCCE member institutions.
Past Community Engagement Administrators Conferences 
Click on the title to view the program booklet.
2023 – Read highlights
2022 – Suspended

2021 – Democratic Partnerships and Critical Reflection in SLCE: Old Stuff, New Stuff, and Upcoming Opportunities (We hosted a 2-hour virtual workshop in 2021 rather than a full-day event)
2020 — Recalibration:  Knowledge & Tools for Deepening & Sustaining Community & Civic Engagement (the 2020 event was virtual due to the COVID-19 pandemic)
2019 —  Southern Region Community College Institute (for the 2019 event we partnered with Kentucky Campus Compact, Virginia Campus Compact, and national Campus Compact to host a gathering specifically for community colleges)
2018 — Planning for Data Collection on Civic and Community Engagement Activities
Facilitator: Anne Weiss, Director of Assessment, Campus Compact of Indiana
2017 — The Future of Alternative Service Breaks: Deeper Learning and Impact
2016 — Recognizing Implicit Bias in Community Engagement
2015 — Diving Deep in Community Engagement
2013 — Alternative Service Experiences Institute
2012 — Tracking and Measuring Community Engagement:  Articulating Methods that Align with Current and Future Institutional Goals
2010 — 2010 CEAC program booklet
2009 — CEAC Conference  
2008 — CEAC Conference "Closer to the Goal: Going Deeper in our Civic Engagement Efforts"
2007 — CSD-SLD Conference
2006 — CSD-SLD Conference "20/20 Visioning"
2005 — CSD-SLD Conference
2004 — Southeast Conference for Community Service and Service Learning Directors